Creating a secure gathering place
Community member works to engage students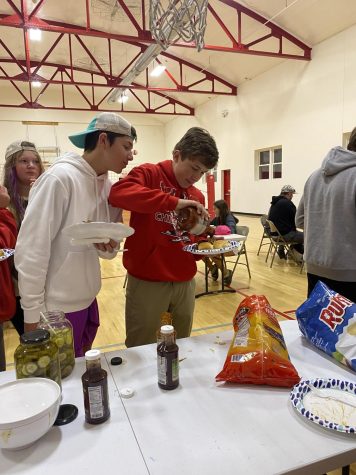 A strong, involved community is important for any town. That is why Mike Mclaughlin, the owner and lead pastor of the Gathering Place, a church on Vine Street that replaced the Vine Street Market a couple of years ago, has been working to bring the Yutan community together.
"We have different events throughout the year… where we get opportunities to create space for adults and kids alike to connect with each other," Mclaughlin said.
Many people in the community may already be familiar with fifth-quarter feeds, which are held in the Activity Center after football games on Friday nights and have food that is provided by the Gathering Place.
"We decided to do the fifth-quarter feed because we wanted to create a space for kids to come after the games [that's] safe… secondly, everyone loves good food," Mclaughlin said. 
Hosting events to encourage people to grow their faith was not always a part of Mclaughlin's life, however.
"I was in residential real estate and commercial real estate and just felt called to be in kids' lives," Mclaughlin said.
He then transitioned into youth ministry and became a youth pastor at Westside Church in Omaha. Following that, Mclaughlin kept pursuing his new career choice and ended up with his own church in Valley.
"One thing led to the next, and the next thing you know, I'm in full-time ministry," Mclaughlin said.
After three years, the Mclaughlin family, including Mclaughlin's wife and their four kids, made the decision to transfer to the Yutan school district and move their church to Yutan.
"We just decided that this is a great town, and it's a great place to plant a church," Mclaughlin said.
As for the challenges of transitioning to Yutan, Mclaughlin hasn't come across many issues besides the physical aspect of the church.
"We have lots of kids at our church," Mclaughlin said. "We're really blessed with our building, but we have space limitations for sure."
Dami Mclaughlin, a freshman and the oldest child in the Mclaughlin family, finds that although people may be skeptical about some events, it eventually grows on them, and they end up becoming more involved.
"When people start to donate and support the activities we put on, it makes my parents so happy because it shows that people in the community love being a part of it," Dami said.
Aside from hopes of involvement, another goal of Mclaughlin's is that kids can be inspired through Fellowship of Christian Athletes and other events to grow spiritually, even if it is not through his church.
"The goal would be… when [students] are in Yutan, they can connect with people that have a similar faith," Mclaughlin said.
Mclaughlin is still working to come up with more ideas for students to become involved and develop spiritually.
"The big thing is just finding new creative ways to engage kids to grow in their faith," Mclaughlin said.
Leave a Comment
Donate to Chieftain Times
Your donation will support the student journalists of Yutan High School. Your contribution will help cover our annual website hosting costs, as well as allow us to purchase equipment and produce more in-print editions.
About the Contributor
Gabi Tederman, Sophomore writer
Gabi Tederman is a sophomore and in her second year of journalism.  She enjoys taking pictures and writing.  Outside journalism, Gabi is involved in...