Campbell finds success, family in softball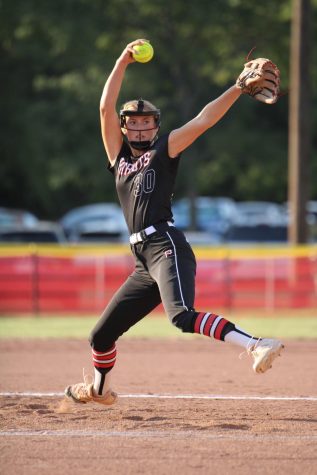 For as long as she can remember, senior Shaylynn Campbell has been playing softball. Although she was reluctant to start, her mom and teammates have led her to love the game. 
"My mom always got me in there even though it wasn't my favorite thing when I was little," Campbell said. "And eventually, it became my favorite sport."
Campbell played with the same group of girls and was coached by her mom for her entire career up to the point of her transferring to Yutan in 2020. Along with coaching her, Campbell's mom is one of her biggest inspirations to play.
"She was really good when she was young, and she didn't want to play in college because she got pregnant with me. And I think that was hard for her, so she always pushed me to be the best I could," Campbell said. "Now I'm doing what she did, and I think I play for her the most because I'm doing what she wasn't able to do."
Since transferring to Yutan, Campbell has played for the Yutan-Mead Patriots, and she also currently plays with Primetime year round. 
"It was so weird to me having to start over with a new group of people at the same time I transferred to Yutan," Campbell said. "Everything was new at that point, and my mom wasn't coaching me anymore. So it was just a big wake-up call."
Even with the changes, Campbell learned to thrive on her new team, and she feels they have become a family.
"It was really fun having a group of girls that was like a family and then coaches who also treat us like their kids," Campbell said.
While the team now feels like family to Campbell, she is playing with literal family for the 2022 season as her sister, freshman Jordyn Campbell, is on the team. Like most siblings, their interactions on the field have ups and downs. 
"We're usually best friends. But when it comes to softball, we don't always agree, especially when she's catching me," Campbell said. "If she doesn't call the pitch I want, it's very easy for us to get mad at each other…So it's a lot of both [good and bad]."
Brooke Campbell, Shaylynn and Jordyn's mom, is also one of the Patriots' coaches now. Having her mom as her coach enables Campbell to be a connection between players and coaches. 
"I like having my mom as my coach. Because she's coached me for as long as I can remember… I feel like I'm the middle person for our team," Campbell said. "So I think it's good for our team because it helps create a bridge between the team and the coach."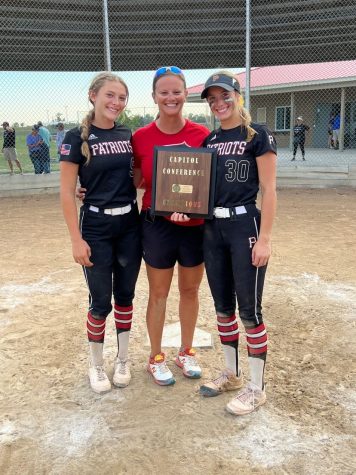 Along with loving her team and coaches, Campbell appreciates the mix of individuality and teamwork that goes into softball.
"There's individual success and team success at the same time. So if you're having a bad day, your other teammates can pick you up. It's not just you out there," Campbell said. "In a lot of sports, it's either your entire team or just you. I feel like softball is the perfect in-between."
Like other sports, softball has its risks. Campbell feels that she has missed out on certain things making sure she doesn't get injured. Because she pitches, Campbell is cautious to make sure she is ready to play at all times.
"Injuries are always a factor. And when I know I'm a part of my team who can't get hurt, it makes me nervous," Campbell said. "I feel like I can't go out ice skating in the winter because I don't want to get hurt for my team in the summer." 
However, Campbell's hard work and caution have paid off as she was named Saunders County Chiropractic's Athlete of the Month in August. Campbell also recently committed to play softball at the next level at the College of Saint Mary. She will take part in their nursing program and plans to apply everything she has learned through softball on and off the field in her future there.
"It's full of failure. I love how you might be able to get one opportunity a game to do something good. And if you mess it up, there's nothing you can do about it," Campbell said. "It has taught me so much about keeping things behind me and not dwelling on the past."
Leave a Comment
Donate to Chieftain Times
Your donation will support the student journalists of Yutan High School. Your contribution will help cover our annual website hosting costs, as well as allow us to purchase equipment and produce more in-print editions.
About the Contributor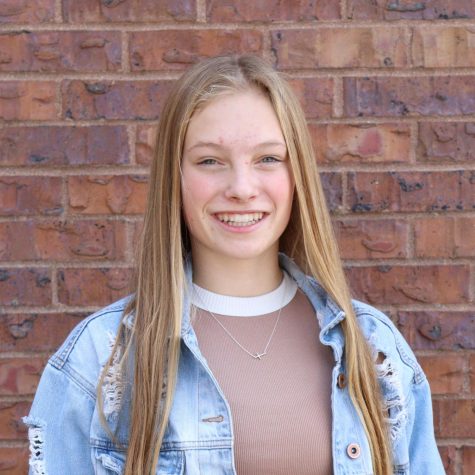 Bella Tederman, Junior writer
Bella Tederman is a junior and in her third year of journalism.  She enjoys writing stories and taking pictures. Outside journalism, Bella is involved...