Krajicek embraces challenges of football
Football is a sport that requires dedication, perseverance and the drive to become better. Senior Zach Krajicek is no exception to these requirements and puts his effort into not only becoming better individually but also turning his teammates into the best players they can be. "Bringing everyone to the top of the mountain with you is important. A team is just as good as their worst player out on the field," Krajicek said.
Krajicek has been playing running back and linebacker since freshman year.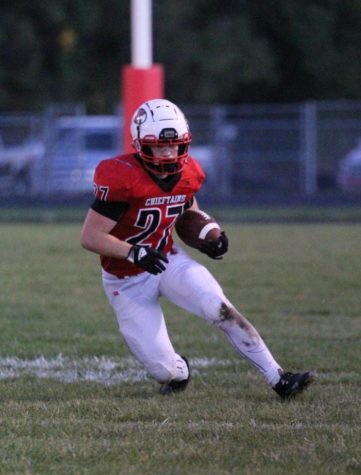 "Linebacker is really fun. Most of the time we go unblocked so we get to make a lot of plays," said Krajicek. "Running back is hard but fun because you get to score a lot of touchdowns."
Some of his accomplishments for this season so far include four touchdowns, one interception, one forced fumble, and a lot of tackles.
"I've done about as well as I did last year at linebacker," said Krajicek. "On offense, I get to start this year so that has allowed me to score more touchdowns."
Being a Senior has also put Krajicek into certain leadership roles where he gets to be the person that others look up to for guidance. Being captain has made this season somewhat more enjoyable for him.
"I like the responsibility," said Krajicek. "It's kind of fun being the leader and to have my turn and being able to direct everyone where to go and what to do."
One of Krajicek's teammates, junior Jesse Kult, has been playing football with him for years and has had the opportunity to watch Krajicek improve as a leader and a player. 
"He's gotten faster, he's gotten harder to tackle and he's been more of a leader over the years," said Kult.
Krajicek is not just counted on by his teammates but also by his coaches to lead and support his team. Coach Jon Erikson, who is in his first year coaching at Yutan, has already enjoyed seeing Zach as one of the leaders on the team.
"He's always picking people up, he's there to help people out," said Erikson. "He's definitely a lead by example kind of person; he's always doing the right thing."
But of course, not all of this comes naturally. Krajicek spends a lot of his time watching game film to see what might've gone wrong and what they need to improve on.
"Film's a big thing because you can see what you did wrong and what you did good," said Krajicek. "You can pick out little things and say I'm going to practice this today or the next day and get better every day."
But film is just part of what will make him better, Krajicek and the team all have strong goals for the season and won't stop until they're accomplished.
"I've always had a goal so I know what I'm doing all my hard work for," said Krajicek." I've got several goals as far as stats and individual accomplishments, but the team performing well into playoff season is also very important."
Overall, Krajicek is ready to work with his teammates and coaches to make his last year one of the best.
"I love football, and It's my favorite sport," said Krajicek. "It's a hard sport, but that's what makes it fun."
Leave a Comment
Donate to Chieftain Times
Your donation will support the student journalists of Yutan High School. Your contribution will help cover our annual website hosting costs, as well as allow us to purchase equipment and produce more in-print editions.
About the Contributor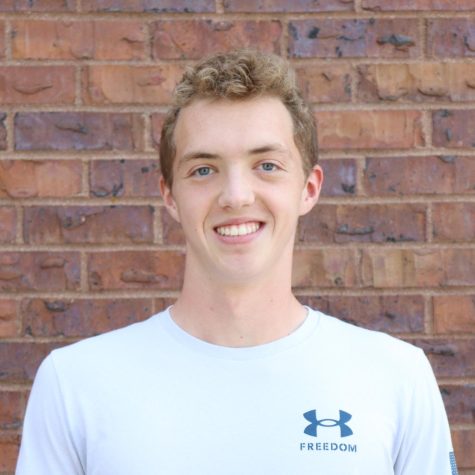 Grayson Cogdill, Senior writer
Grayson is a senior and in his first year of journalism. He enjoys taking pictures. Outside journalism, Grayson is involved in cross country, track, NHS...