Callahan shares her passion for science, learning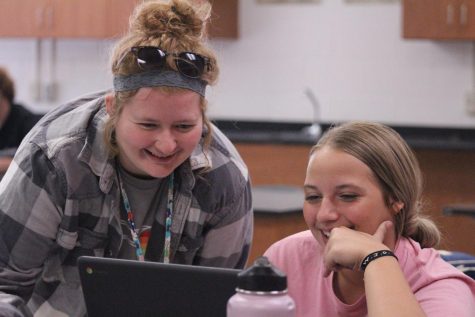 Megan Callahan might be Yutan's new science teacher, but that career was not always her plan. 
After high school, Callahan's plan was to study biochemistry at Simpson College in Indianola. At Simpson, she not only earned her bachelor's degree but also took advantage of the extra experiences the college offered.
"While at Simpson, I was a part of the women's soccer team, studied abroad in Adelaide, South Australia, for a semester my junior year, studied abroad in Israel and Jordan my senior year," Callahan said.
After graduation, Callahan got a job with the Maine Conservation Corps. She worked as an environmental steward at the Downeast Institute of Marine Research in their educational program. Here, she got to experience the wonders of working with science and children. Callahan also met the person who would inspire her to become a teacher.
"Her name was Colleen Haskell, and she was the Director of Education for the Downeast Institute of Marine Research when I was part of the program through the Maine Conservation Corps back in 2018," Callahan said.
Haskell was a retired teacher, principal, and superintendent with great insight into the profession and a great mentor, inspiring Callahan. 
"I also got hands-on experience working with actual science teachers at the time and teaching them how to do outdoor education. Through that, I saw just how fun science could be and all the potential," Callahan said. 
 As a result, in 2020, Callahan decided to come back to Nebraska. 
"I love Nebraska so much because it's home and my family is here!" Callahan said.
Callahan then went to the College of Saint Mary, where she completed an accelerated program to obtain her education degree and started teaching.
"Last year, I taught at Cedar Bluffs doing about the same job title as at Yutan," Callahan said. 
When a position at Yutan opened, however, Callahan said she couldn't pass up the opportunity.
"I've always loved the small-town feel that you get here in town and at the school," Callahan said.
Callahan loved the Yutan pride as much as the thought of working with students in the science department. 
"I've always loved science and working with kids.  And this was kind of the best-case scenario to do science things and work with kids.  My goal as a teacher is to help students find something they're passionate about, even if it isn't science!" Callahan said.
To accomplish this, one of Callahan's classroom rules is to always pay attention and not talk when she is talking or another student is talking.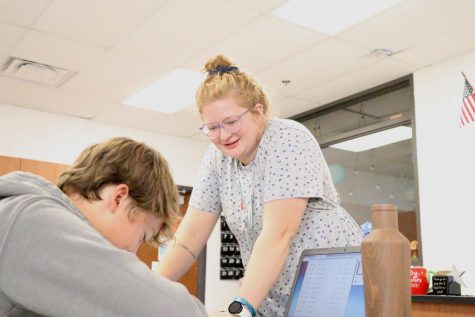 "I'm all about having fun in science, but we have to earn the fun and know when to be rowdy and when to not," Callahan said. 
The students have commented on Callahan's teaching style in the classroom.  
"She's really chill and she has never yelled at us before," seventh grader Addi Jones said.       
Students already feel comfortable around Callahan. 
"She is a really good teacher and she can relate to me," sophomore Britney Zeleny said.
Outside of the classroom, Callahan is involved as the cheer coach. 
"I got involved in cheer because there was an opportunity to grow a program into something that the cheerleaders could be proud of. And that seemed exciting to me," Callahan said.
Between the classroom and cheer,  Callahan has her hands full but is excited about the challenge.
"It's definitely a juggling act teaching and coaching at the same time!  Last year, I was the assistant wrestling coach at Cedar Bluffs, and I was able to dip my toe into coaching and teaching then," Callahan said.  "It's really rewarding though seeing your students grow and do things they love!"
Leave a Comment
Donate to Chieftain Times
Your donation will support the student journalists of Yutan High School. Your contribution will help cover our annual website hosting costs, as well as allow us to purchase equipment and produce more in-print editions.
About the Contributor
Jenna Benjamin, Sophomore writer
Jenna Benjamin is a freshman and in her first year of journalism.  She enjoys taking pictures and doing interviews. Outside journalism, Jenna is involved...