What's really behind the scenes?
One act adjusts to bigger cast and busier schedules.
What's funnier than annoying someone else on purpose? How about lying back and watching someone else cause trouble? If you can relate to this, then this year's one act is the perfect thing for you. 
Matt Gunter's second year of being the one-act director brought this year's comedy "We Loathe our Customers." The play is about two employees, Campbell and Bailey, who work in an office supply store and love to torment and annoy customers. When they find out the district manager is coming into town, they are forced to get their act together and be nice to the customers. Cambell, who is played by junior Skylar Crews, is a bad influence on Bailey, who is played by junior Hailey Drews. 
There are new changes to what was just a group of 5. For instance, the students involved tripled from the small group of 5 to the big group of 16. New changes, of course, bring new challenges. 
"The biggest challenges that we are facing are that everybody's trying to find out who their customer should be, how much energy they should use, and since there are new actors this year, the actors from last year have to find the energy between all of them," said Gunter. 
Freshman Bella Sliva is one of these new actors adjusting to one act. Sliva plays the manager of the office supply store, Joe, and a customer who mysteriously found what she thinks is a raisin in her purse. 
"Being new to one act is difficult because everyone else is more experienced, so it's harder to get a good part. It is super exciting, though. I'm really excited to go to our competitions," said Sliva.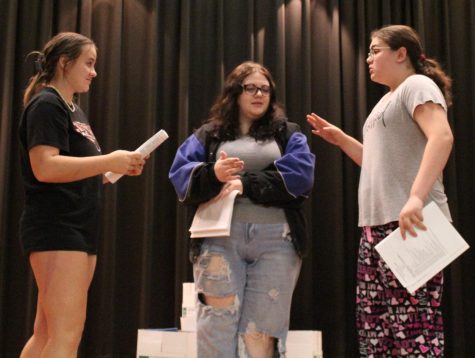 Sophomore Saylor Eads is another cast member working through challenges. Eads plays customer 2, who's just trying to browse the store in peace, and customer 4, who's looking for a specific kind of paper. However, since Eads is also in her first year of cheerleading, she's having a tough time with the practice schedules. 
"I'm facing challenges with my activity schedules. Cheer and one act schedules have very similar times, so it's difficult because I feel I have to choose between which one to attend," said Eads. 
As a result of these challenges and what he learned last year, Gunter has made some changes to the practices. 
"We've been doing lots of different warm-ups, we started out trying different walks, voices and reactions. We're doing a one-on-one practice between two actors, to see how well they work together," said Gunter.
Gunter's biggest goal is to beat last year's score.
"I was proud of the cast for getting a 51/60, which is very good for the size of our cast, and since it was my first year as the director," Gunter said. "Last year was good, but this year I'm hoping we can do better. My goal is to get a 55/60 overall." 
The students have goals as well. 
"I hope one act will do amazing. Last year was really fun and even if we didn't do the best, it was still an amazing experience. I know that we'll do better than last year because of the experience we all gained and the change in numbers for our team," said Eads.
Even though they still have a long way to go, Gunter and the students are making plenty of memories.
"My favorite thing about this year so far is how fun the students are," said Gunter. 
"Practice is fun. I enjoy watching the chemistry and friendships build up between the team. I love how they come up with ideas and want to try new things in the production." 
Leave a Comment
Donate to Chieftain Times
Your donation will support the student journalists of Yutan High School. Your contribution will help cover our annual website hosting costs, as well as allow us to purchase equipment and produce more in-print editions.
About the Contributor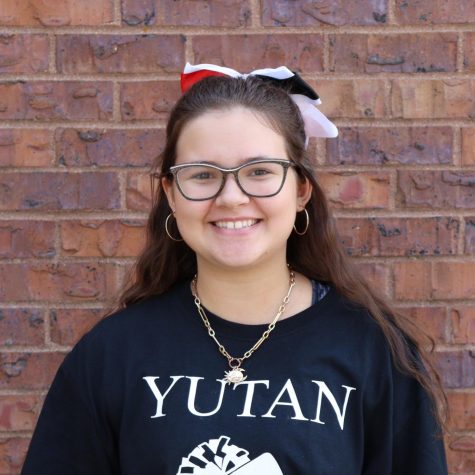 Lexi Bisaillon, Freshman writer
Lexi Bisaillon is a freshman and in her first year of journalism.  She enjoys traveling, shopping and fashion.  Outside journalism, Lexi is involved...