Happy hoco-proposals
Yutan students find creative ways to ask dates to homecoming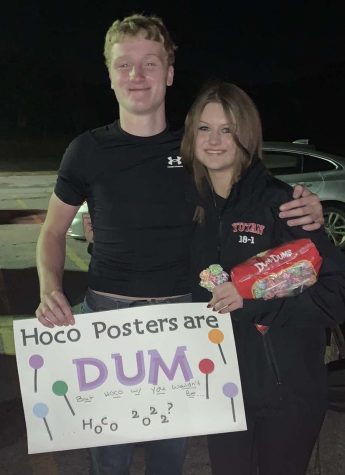 Prom-posals are an outgoing way to ask someone to prom, and the same idea has been made but for homecoming proposals. "Hoco-posals" are the name, and there are very creative ways to do them.
Sophomores AJ Arensberg and Libby Winn are just one of the couples who had a pretty unique idea for a hoco-posal. Arensberg asked Winn to homecoming after a football game with a poster that said, "Hoco posters are dum, but going to homecoming with you wouldn't be." Arensberg also gifted Winn a bag of 200 Dum Dums and a bouquet of Dum Dums. 
"My mom and my friend, Jade Lewis, helped me decide what to do. They also helped me make it." Arensberg said.
Winn knew that Arensberg was going to give her the poster, but she never expected the amount of Dum Dums.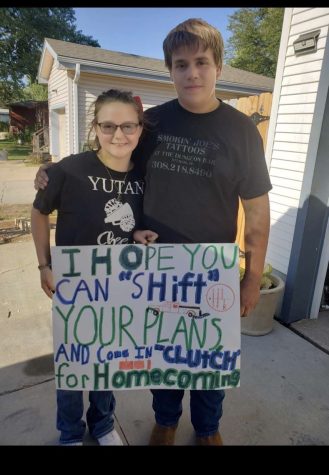 "I think he asked the way he did because he likes Dum Dums. But I think he asked my cousin and my friends so he could get ideas." Winn said. 
Candy is one creative way of doing a proposal, but so is a personality-based proposal. 
Sophomore Caleb Cantrell decided to ask sophomore Saylor Eads using a poster based on her truck. His poster said, "I hope you can come in clutch and shift your plans for homecoming."
"I came up with the idea because we always joke around about her truck and her driving."
Eads was very happy with the whole thing. 
"I was thrilled that he proposed for homecoming. I was so excited and almost started to cry. At that time it had been 7 months since we were dating so I was even more excited about it." Eads said.
In other proposals, the traditional roles were reversed.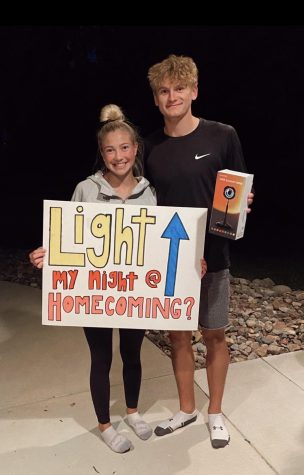 Senior Mallory Zeleny decided to ask Yutan graduate and college freshman Sam Petersen to go to homecoming with her. Zeleny decided to do a poster with lights that said, "Will you light up my night at hoco?" 
"I got the idea from TikTok. I figured that since he was in college and couldn't ask me I would just ask him. I knew that an LED light was something that he had been wanting." Zeleny said. 
Petersen was surprised when Zeleny asked him. He did not expect her to ask him when she did. 
"When Mallory first proposed to me, I was definitely surprised because I had just run out to my car to put some clothes in there so I wouldn't forget to take them home. And when I came back inside she was holding the sign right in front of me," Petersen said.
Other couples just used recommendations that they found offline. 
 Senior Drake Trent found a sunflower-themed proposal that he thought junior Ellie Lloyd would like. Trent presented Lloyd with a poster that said, "Will you be my sunshine at hoco?" and a bouquet of sunflowers.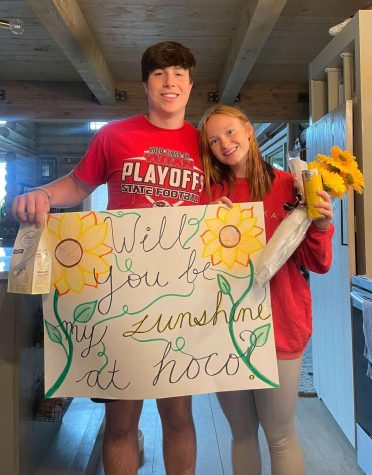 "So my friend, Laycee Josoff, sent me a bunch of ideas. I just picked the one I liked the most." Trent said.
Even though Lloyd had no idea why he had chosen what he did, she still loved it. 
"I don't really know how much that has to do with what I like, but I know it's just kind of bright and exciting. He got me a bunch of yellow candy and drinks." Lloyd said. 
There are many different activities for homecoming including the parade, assorted themed days, and a pep rally, but the hoco-posals added a lot more excitement.
"All the different homecoming proposals definitely made homecoming so much better because it got everyone excited and more in the spirit for things like the dance and dress-up week," Eads said.
Leave a Comment
Donate to Chieftain Times
Your donation will support the student journalists of Yutan High School. Your contribution will help cover our annual website hosting costs, as well as allow us to purchase equipment and produce more in-print editions.
About the Contributor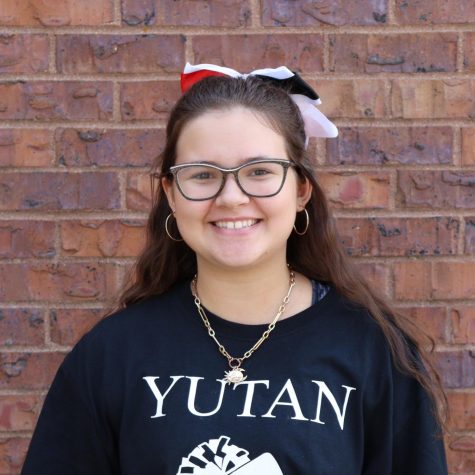 Lexi Bisaillon, Freshman writer
Lexi Bisaillon is a freshman and in her first year of journalism.  She enjoys traveling, shopping and fashion.  Outside journalism, Lexi is involved...