Advisor, students strive to expand FBLA program
In less than a year, the number of FBLA members has more than doubled. However, the expansion of the program does not stop there.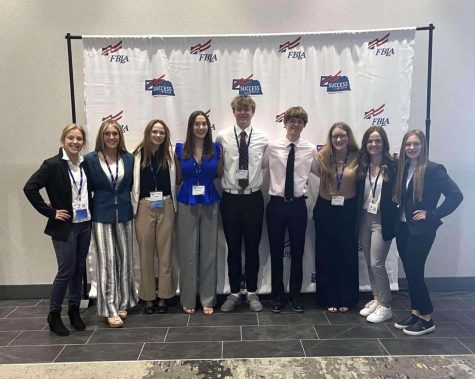 Clay Carlton, the advisor of Future Business Leaders of America (FBLA), is working alongside the members to build the program and get more people involved.
"The goal is just to get it out there so that more students at Yutan are aware of what it is and what we're trying to do and continue to grow our FBLA program," Carlton said.
Unlike some other programs, FBLA is mostly student-led. There are six chapter officers, who are the main leaders that determine what direction the group takes. Two of the six chapter officers are juniors Bella Tederman and Connor Engel, who are both in their second year of FBLA. 
"I feel like we're a lot more involved in FBLA this year," Engel said. "Last year we were just experimenting to find out what FBLA really was."
Both Tederman and Engel competed at state FBLA last spring. It is a three-day event in Kearney that includes more than just taking tests.
"You do your events, and then you basically just get to hang out with your friends and do social activities for the rest of the time," Tederman said. "It's a fun experience."
Along with attending state leadership conferences, the officers are expected to work on expanding the program and involving more students in FBLA.
"The best way to build a program is to get some kids in there that are passionate about it and good at promoting it to the rest of the student body," Carlton said.
"
I feel like we're a lot more involved in FBLA this year. Last year we were just experimenting to find out what FBLA really was."
— Connor Engel
So far this year, FBLA has sponsored a food drive and the chapter officers have gone to the Fall Leadership Conference, but they are hoping to do even more.
"We're really trying to get fundraising stuff going this year," Tederman said.
The advisor and chapter officers hope that more people will want to be involved after seeing the projects FBLA does.
"We're trying to build a program versus FBLA being like a ten-person thing; we're trying to get more people involved," Tederman said.
However, more members joining has caused a challenge with the FBLA members finding a time to meet.
"At a small school, everyone's involved in everything," Carlton said. "Getting our student body together at the same time is a difficult task."

Despite that obstacle, Carlton believes the growth of the program would be largely beneficial.
"I'd like to see our membership grow substantially over the next few years," Carlton said. "Taking a step forward… would be a big accomplishment for us."
Leave a Comment
Donate to Chieftain Times
Your donation will support the student journalists of Yutan High School. Your contribution will help cover our annual website hosting costs, as well as allow us to purchase equipment and produce more in-print editions.
About the Contributor
Gabi Tederman, Sophomore writer
Gabi Tederman is a sophomore and in her second year of journalism.  She enjoys taking pictures and writing.  Outside journalism, Gabi is involved in...