Marching to victory
Yutan band places first at Columbus Marching Festival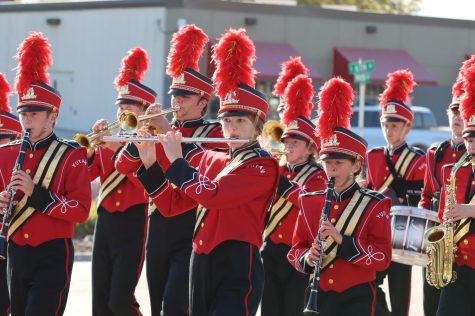 For the first time in five years, Yutan's marching band took home the first-place trophy from the Columbus Marching Festival on September 24th.
"There were 3 bands in our class. However, we scored an 85, which was one of the higher scores even comparing us to the Class B and A bands," first-year band director Hunter Holoubek said. 
According to Holoubek, the competition at Columbus is a place for bands to showcase skills and get constructive feedback from judges. To be able to showcase their skill in the best way possible, the Yutan band had put in hours of rehearsing going into the competition.
"We practiced pretty much every day; we were outside every morning during the first hour. We did a lot of prep on the track and we went in the neighborhoods," Holoubek said. 
Taking advantage of the available outside space benefited the band in many ways. 
"We do a lot more marching outside. That has helped competition-wise," sophomore Tannen Honke said.
Another way the band prepared for the competition was by limiting their focus to fewer selected songs. 
"The songs that we play, though, we've taken a little bit more time trying to get them right and getting those little details down," Honke said.
 The band had practiced one song in particular, "Louie Louie," for the competition and incorporated that song into their march.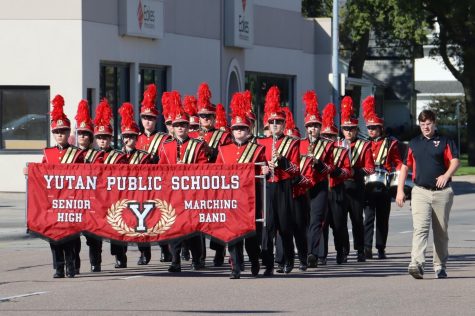 "We did good with marching in step. How we played I definitely thought it was going to be more difficult to play and march at the same time. But we sounded really good," freshman Allison Kirchmann said. 
One challenge the band had to adapt to coming into the year is not having any seniors playing in the band, but that doesn't mean there aren't any student leaders.
"It has been cool to see all the juniors step up to that role," junior Joey Benjamin said.
As students step up, Holoubeck is working to keep everything running smoothly for upcoming concerts, marching competitions, pep rallies and pep band. 
"Logistically, I've never had to run my own program. So you know there's a lot of behind-the-scenes work involved with ordering our shirts and getting our uniforms ready to go and getting us registered for these competitions," Holubek said.
The success in Columbus reinforced what Holoubek has been doing and makes him excited about the future of the band program. 
"There was a lot of potential and a lot of hard-working students here," Holoubek said. "And, you know, I felt very welcomed by the community and I'm excited to see where we can take this in the next few years."
Leave a Comment
Donate to Chieftain Times
Your donation will support the student journalists of Yutan High School. Your contribution will help cover our annual website hosting costs, as well as allow us to purchase equipment and produce more in-print editions.
About the Contributor
Jenna Benjamin, Freshman writer
Jenna Benjamin is a freshman and in her first year of journalism.  She enjoys taking pictures and doing interviews. Outside journalism, Jenna is involved...