Coaching changes bring new opportunities for cheer team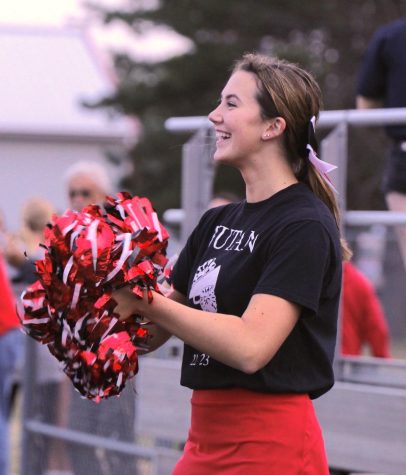 Most people would think that being a cheerleader at a small-town school would be easy, but this is not the case for Yutan cheerleaders.  The cheer squad has gone through several coaching changes within the past year that have presented both challenges and opportunities. 
At the end of last school year, former cheer coach Shawna Gunter informed the cheerleaders that she would not be returning to coach next season because she got a new job at Hudl.  
"I was a little sad, but I knew it was coming," said sophomore cheerleader Libby Winn. 
Though they were sad about the departure of their coach, the cheerleaders were open-minded when it was announced that a new coach, Crystal Baker, who had coached at the collegiate level, had been selected. Baker brought a lot of new ideas to Yutan cheer but was let go by the school in September. This was when new high school science teacher Megan Callahan stepped in to become the assistant cheerleading coach alongside the new head coach, elementary school paraprofessional Shelah Fenner. 
"I'm a big fan of school culture and having pride in your school, and I think the cheer team does a really, really good job of that, so I was excited to step up into a leadership role. I wanted to help to grow the cheer team into something we can all be proud of," Callahan said. 
At the beginning of the season, the cheerleaders weren't sure how to feel about another coach stepping in after losing two already.
"It was off to a really rocky start with the former coach having to step down and then two new coaches that we really know nothing about coming in and taking over the program. But I think in the direction that we're heading now and the amount of positive feedback we've gotten, I think it's a really good start," said spirit leader Haley Kube. 
Now that the season is underway, the cheerleaders are getting more and more comfortable with their coaches and feel that Fenner and Callahan are leading the program in the right direction. 
"I think that they are handling it really well, especially because of how it was right before they were put in," said  Winn. "I think they're doing a lot to help us and they're doing a lot of good stuff."
Callahan and Fenner strive to make changes that will continue to improve the situation.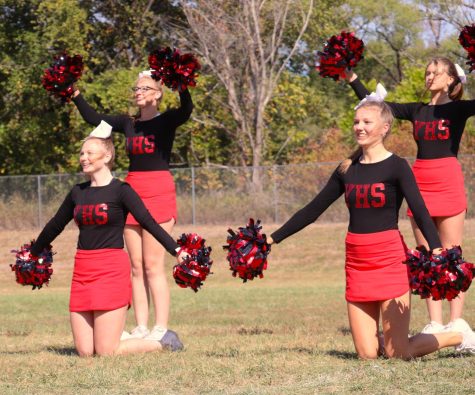 "Coach Fenner and I are trying to bring a lot of structure," said Callahan. "We don't want it to be as drama-filled as it has been in the past. That way there's really no question about what is expected and what isn't expected." 
Though the cheerleaders believe that Callahan and Fenner are doing their best to improve the program, there are still some things that they wish would change. 
"I would change the way that people view the cheer program because we put in a lot of hard work. We practice two to three times a week and when we show up to games and people don't support us, that makes us feel like we did all that for nothing," said Kube. 
Nonetheless, the cheerleaders continue to work hard throughout the challenges they've faced and are excited about what's to come for the program. 
"I think [the coaches are] going to continue to do a great job with what they have in mind and what their hopes are for the cheer program," said Kube. "I really have faith in them and how they're going to lead our program."
Leave a Comment
Donate to Chieftain Times
Your donation will support the student journalists of Yutan High School. Your contribution will help cover our annual website hosting costs, as well as allow us to purchase equipment and produce more in-print editions.