Back on the court for a final go-round
Andrews returns for senior season of basketball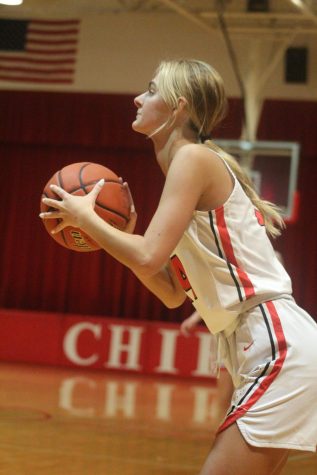 From being a five-year-old who loved basketball to quitting the team her junior year of high school to coming back to the game for her final year, senior Kennedy Andrews has experienced many ups and downs during her 12 years of basketball, but through it all her love of basketball has remained. 
"I love basketball because it has always been in my life and I've grown up around it," Andrews said. "The outcome I get from the games makes me happy, and the game alone keeps me active."
Andrews has been a part of eight teams throughout her basketball career: the YMCA league, Millard West Feeders, Beadle Middle School, Hoffman Hoops, OSA, Team Factory, Millard West, and her final team, the Yutan Chieftains. Andrews started playing early due to the influence of her parents. Both of Andrew's parents were athletes throughout high school and her mom even went on to play basketball at Wayne State College. 
"I wanted to follow in my mom's footsteps ever since I was a little girl," Andrews said.
The dream of following in her mother's footsteps was interrupted when she stepped away from basketball during the middle of her junior season, however. Earlier that year, Andrews had transferred from Millard West to Yutan and was only allowed to play junior varsity because of the NSAA eligibility rule. This led to her "not feeling a bond" with her junior and senior teammates.  
While the decision offered positives at the time, Andrews did have some regrets looking back at the situation. 
"In the moment, I didn't regret it at all because I knew that it was the best thing for me," Andrews said. "But now looking back, it kind of sucks that I didn't get my junior season because my senior season has gone by so fast."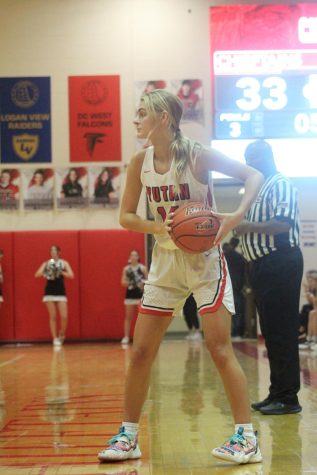 With some encouragement from her parents, she decided to give the team another shot this year.
"Both my parents were big factors in pushing me to play basketball again," Andrews said. "They knew if I didn't play I would regret it, and they've definitely been a big part of this season for me."
With her parents by her side, Andrews has had a "really successful" senior season, but there is now another obstacle in her way: a sprained ACL. 
"I've never injured anything before, and knee injuries are a pretty big deal when it comes to basketball, so I'm just staying in touch with my doctor and athletic trainer," Andrews said. "I'm continuing to take it day by day and just trying to keep myself healthy."
Despite the injury, Andrews is pleased with her decision to come back her senior year to end her basketball career with her "best friends by her side."
"I knew if I didn't come back I would regret it later on in life," Andrews said. "Basketball has been a part of my life for as long as I can remember, and I knew I needed to make this last opportunity to play the sport that I have always loved."
Leave a Comment
Donate to Chieftain Times
Your donation will support the student journalists of Yutan High School. Your contribution will help cover our annual website hosting costs, as well as allow us to purchase equipment and produce more in-print editions.
About the Contributors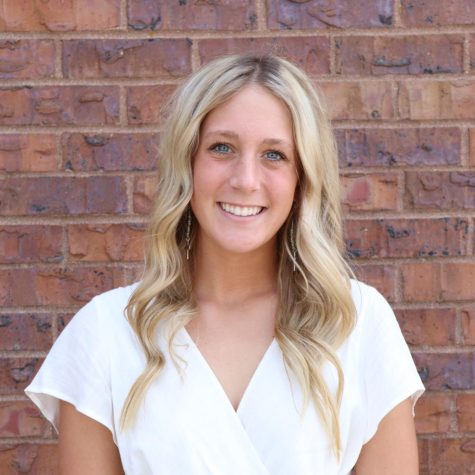 Laycee Josoff, Senior writer
Laycee Josoff is a senior and in her fourth year of journalism.  She enjoys photography, sports feature writing, broadcasting and yearbook.  Outside...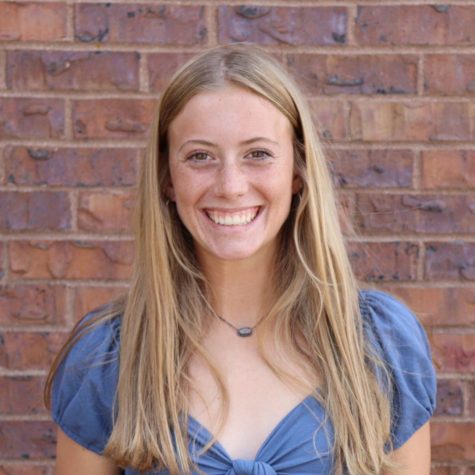 Shaylynn Campbell, Senior writer
Shaylynn is a senior and in her third year of journalism.  She enjoys taking pictures and working on the yearbook.  Outside journalism, Shaylynn is involved...