Students strive to perfect all-school play
Imagine reading an essay in front of the whole class, thinking about how all their eyes are on you. It can be a little overwhelming for some people, and it can result in messing up. Some people read straight through it without hesitation. But whether reading an essay, presenting a project or even doing an audition, everyone does it their own way, which is what this year's all-school play is all about: doing it your own way. 
This year's play is a comedy called "Bad Auditions, Caught on Camera." It centers around a casting director (played by junior Skylar Crews) who's trying to find a new replacement for a part in a show called "Crime Court," but the actors trying to audition aren't exactly what the casting director is looking for. 
Director Matthew Gunter has been working hard to perfect this year's play, and he is pleased with the progress. Play practice is on Monday, Tuesday, and Thursday from 6:30-8:00. Gunter uses every minute of that practice to get as far as he can, whether he works on character development, blocking or lines. 
"So far it's coming along pretty well. We're about a little more than a month in, and we're about halfway done with it. We're doing a really good job," said Gunter. 
Gunter, along with the cast, are working hard to make improvements, and incorporate new members. 
One of these new members is senior Marina Voegeli. Voegeli plays a character named Candy, an outgoing, cartoonish character who unknowingly starts talking like a robot when she auditions. 
"So far I've learned that it's okay to make mistakes; it's okay to retry and ask questions. I've also learned that you can give your opinion or thoughts and you won't be ridiculed or judged for them," said Voegeli.
This year Voegeli is hoping to enhance her confidence and enjoy this new activity. 
"Play is nerve wracking, but it's not bad. I enjoy it; it's just mostly my nerves," said Voegeli. 
Play can be nerve wracking for these actors, but according to them, it's fun and all worth it.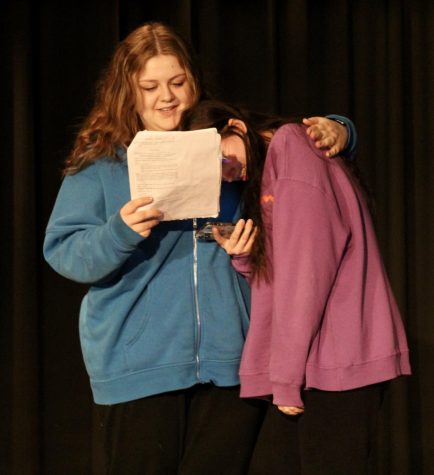 Freshman Bella Sliva has been acting since fifth grade, and she is very passionate about it. Sliva plays a bubbly and non-problematic assistant named Rodger. 
"There's no easy part to play. You have to memorize a lot, which can be difficult if you have a bigger part. The easiest part for me is staging because once I get on the stage, I kind of lock it in," said Sliva. 
The play is going along well, according to Sliva. The actors are having a great time with each other and developing their own unique characters in the play. 
"It's a comedy play and Roger's (Bella's character) just stupid and a little bit insane. There's a part where I have to have a tea party with stuffed animals. But, yeah, I love it. It's very funny and it's very creative," said Sliva. 
Along with the enjoyment of being on stage, getting to have a character and making it unique is just as fun, according to another actor. 
Junior Andi Nelson plays a famous actor by the name of Uma. Uma is a great actor but by the time of her audition, she is a little burnt out. But, Nelson has a lot of enjoyment and passion for play. 
"I enjoy that you're given a character and you have the freedom to make it your own," said Nelson. 
Perfection is key in all-school play, and there's a lot to perfect, including characterization, improvising skills, and your cues. But there's a certain process used. 
"He (Gunter) goes through the scenes individually and works on things. And then, when it's your turn, you act it out. And then he gives you critiques and then you fix them. And you just get it until it's perfect," said Nelson.
Leave a Comment
Donate to Chieftain Times
Your donation will support the student journalists of Yutan High School. Your contribution will help cover our annual website hosting costs, as well as allow us to purchase equipment and produce more in-print editions.
About the Contributors
Lexi Bisaillon, Sophomore writer
Lexi Bisaillon is a sophomore and in her second year of journalism.  She enjoys taking pictures, writing news' stories, and designing yearbook pages....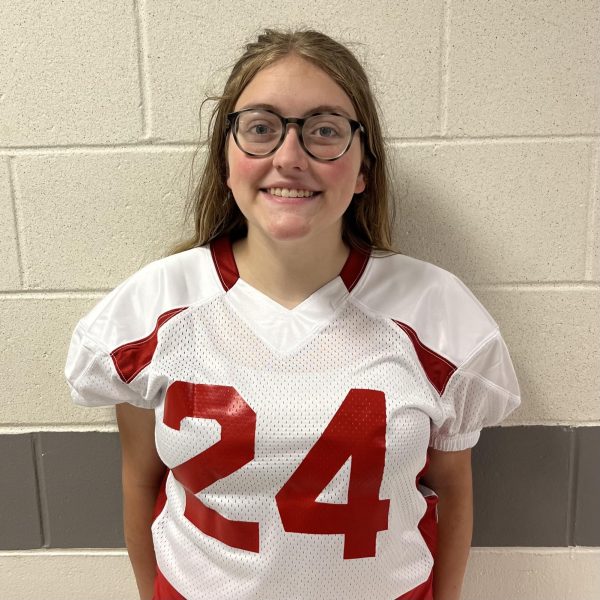 Reagan Wilson, Senior writer
Reagan Wilson is a senior and in her second year of journalism.  She enjoys writing editorials.  Outside journalism, Reagan is involved in volleyball,...