Lloyd looks to build on family's track legacy
Many people start sports like baseball and basketball at a young age, but track and field is not as common—though this is not the case for one Yutan student. Junior Ellie Lloyd has been practicing track since she was five years old. 
"Track for me is just a comfortable sport because it's what I've grown up doing. I've done it my whole entire life, so I just understand how it works and what goes on," Lloyd said.
Lloyd grew up in a track family: her dad has been a volunteer coach at Yutan High School for 13 years, and her older sister competes at Concordia University. Having a sister who does track collegiately brings Lloyd a sense of competitiveness. 
"Growing up, I always saw her as a really good thrower, and then she broke the Yutan record. She helps me, but then she's also there for competition because I want to break her record now," Lloyd said. 
Lloyd is already starting to follow in her sister's footsteps, after having a successful sophomore season.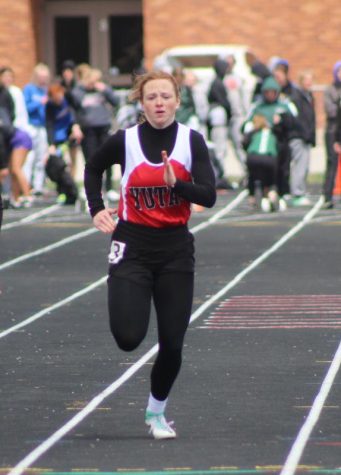 "Discus went really well. I had a PR, although it was not as far as I wanted, but we'll get there this year, and I also made it to state," Lloyd said. 
Even though she is a returning state qualifier, Lloyd still faces many challenges before events.
"The hardest part of track for me is the moments leading up to the event I do. For example, when I'm warming up for the 100 or I'm warming up to throw, sometimes I get really amped up and overthink a little bit," Lloyd said. 
When Lloyd's event is over, her feelings are very different. 
"After I compete, I feel super relieved because I just got done with what I was all nervous for. Most of the time it's either a good time or a good throw, so I'll be super excited and ready to hear what the number was," Lloyd said. "I see how much better I got or what I need to improve on or what I did right and what I did wrong."
For this upcoming season, Lloyd has specific goals in mind. 
"I'm looking forward to getting new PRs, getting faster, and getting more explosive. I'm looking forward to jumping because it's my first year jumping, and I want to see how far I can push myself. I'm also really looking forward to breaking my sister's record in discus," Lloyd said. 
In order to beat her sister's record, Lloyd will have to throw at least 140 feet. With her dad being her coach, Lloyd looks forward to attempting this. 
"I enjoy having somebody that understands the way that I work and somebody that's able to help me in every aspect," Lloyd said. "Having those good moments are extra good because it is with my dad and it's family bonding time, and he gets extra happy for me because I'm his little girl."
Leave a Comment
Donate to Chieftain Times
Your donation will support the student journalists of Yutan High School. Your contribution will help cover our annual website hosting costs, as well as allow us to purchase equipment and produce more in-print editions.