Through adversity, into history
Girls basketball team finishes their season at the state tournament
From winning their conference to qualifying for state to ending the season with a 22-5 record, the girls basketball team made history on the court this year. Their record was the second-best record in school history, and this was the first year the girls basketball team played at state since 2016. 
"They just kind of won everything along the way," head coach Clay Carlton said. "It was just pretty special to see them hammer out a conference championship, a district final and play at state. They overcame a lot of adversity and achieved a lot of great things."
This year the Chieftains moved from Class C2 to Class C1, so as the players prepared for subdistricts, they knew they would play some of the toughest games of their season. The first game they would play would be against the Wahoo Warriors, who they lost to earlier in the season.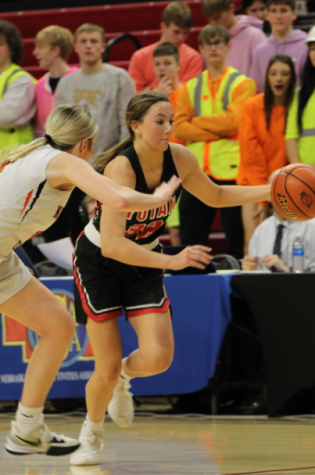 "We played so hard that if we lost, we would be happy with ourselves," junior and captain Maura Tichota said. "We knew that we had nothing to lose, but we had everything to gain."
The Chieftains came out on top with a 46-38 score, playing what Tichota called "one of the best games of their season." In the subdistrict final, they played North Bend, the number one ranked team in the state and three-time state champions. 
"Well, since they won state three previous years, everybody was pretty intimidated, but the seniors on the team or the captains kept telling everyone to just stay calm and that we could get through it if we just stayed calm," senior Alyssa Husing said. "We knew that it was gonna be a really tough game, and that it could have been our last game… We never played them before, though, so that was a disadvantage."
They lost to North Bend 26-41, but because of their strong record, they held out hope for a wild card, which would earn them a spot in a district final. 
"We were sad but not hopeless because we knew that there was still a chance for us making it to the district final game and punching our card to state," Maura said. 
The Chieftains drew a wild card for a district final against Milford, which they would have a week to prepare for. 
"Everybody was at different places at that time, but we all FaceTimed as we were watching the game on our phones," Husing said. "I was at state wrestling and I was FaceTiming the team and we were all just so happy and excited [when we found out we got the wild card]."
As they prepared for the district final, they knew it was a win-or-go-home situation. However, they had plenty of time to prepare for the game, allowing them to scout more than usual.
"I was definitely more focused going into that game because I knew… that could be the deciding factor of our season. So I knew I needed to be more focused and locked in that week at practice versus kind of just practicing like you practice for [any other game]," freshman point guard Mylee Tichota said. 
With a strong start to the game, Husing said the players "couldn't miss." They stayed ahead the entire game and won 53-27. Winning the district final put the team in high spirits as they now knew they made it to state. 
"We'd all played with each other before playing in high school. And it just felt like everything worked in the moment," Mylee said. "We felt like we were working for this moment since we were little kids… We knew when we got to high school, that was going to be our moment and that was going to be our opportunity."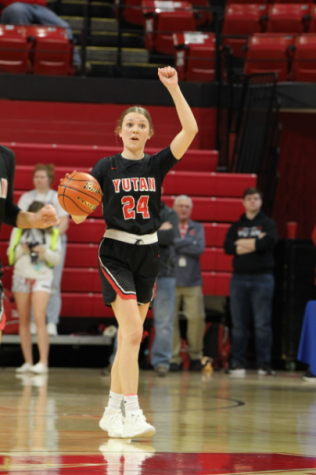 During the first round of state on Mar. 1, the girls faced North Bend once again. They felt more confident this time around because they knew what they were up against. Walking into the Bob Devaney Sports Center was "surreal" for the players, and they were all very excited to make it this far in the season. 
"We walked in, checked in… and then we went on to the court and just saw the court for the first time, like actually getting to play on it," Husing said. "Everybody was just amazed because it was just this huge arena and it was really cool. Everybody was starstruck, and after we got off the court and went into the locker room, that's when we really locked in and got focused and stopped messing around in order to prepare for our game."
State didn't start as expected as North Bend led 17-0 at the end of the first quarter, but with the support of the Yutan community, the Chieftains would bring it back to 33-35 in the fourth quarter and finish the game with a narrow loss of 43-48.
"It was a devastating moment, knowing how close we could have come if our nerves from the first quarter weren't there," Maura said. "But how proud I was of our team for making it to state in the first place and then coming back and only losing by five. It's one of those moments that you can't take away."
Although it was a bittersweet ending to the season, they were thankful for the opportunities the season gave them. 
"It was just the weirdest feeling taking off my basketball shoes for the last time because I've been playing since I was six years old," Husing said. "I was grateful, though, that I got the chance to play at state and end it in Lincoln… It was just a really, really sad feeling that I'll never get to experience this again."
Leave a Comment
Donate to Chieftain Times
Your donation will support the student journalists of Yutan High School. Your contribution will help cover our annual website hosting costs, as well as allow us to purchase equipment and produce more in-print editions.
About the Contributor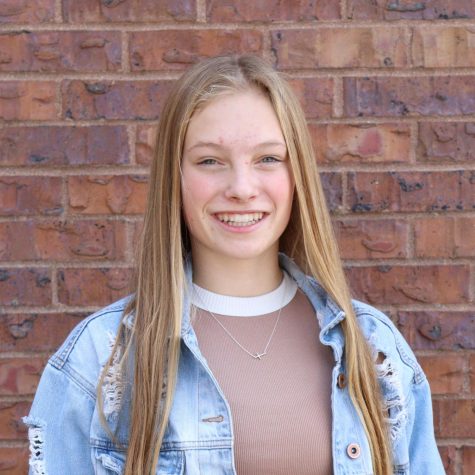 Bella Tederman, Junior writer
Bella Tederman is a junior and in her third year of journalism.  She enjoys writing stories and taking pictures. Outside journalism, Bella is involved...