Band-ing Together
Yutan hosts 2023 Nebraska Capitol Conference honor band
On Mar. 6, Yutan hosted the 2023 Nebraska Capitol Conference honor band under first year band director Hunter Holoubek. While under pressure for hosting the honor band, Holoubek was happy with the result. 
"It being my first year in the conference teaching here at Yutan made the whole process quite stressful," Holoubek said. "After hearing the amazing sound of the combined concert, it made it all worth it!"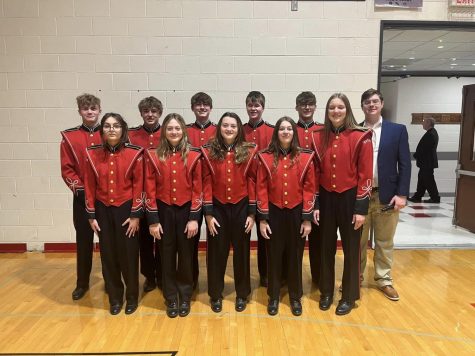 Eleven students from Yutan had the opportunity to participate in the honor band with students from ten other schools, and they were even directed by a past Yutan band director, Peter Wilger. Students from each individual school were nominated to the honor band by their respective band directors.
"There were quite a lot of students from each school," junior Joey Benjamin said. "But we all were still able to play well together." 
To sync students from different schools to full cohesion, there were many rehearsals throughout the day. Holoubek mentioned that they had no time to waste. 
"The rehearsals were very fast-paced," Holoubek said. "We only had part of a day to get the songs ready for the concert in the evening."
In their concert, the band performed four songs—"Gradients," "Luna," "Fanfare 1127" and "Of Dark Souls and Ancient Kings"—and also included solos and duets by each school in between. Holoubek even performed a baritone duet with Yutan sophomore Tannen Honke. 
"It was pretty fun getting to play with Mr. Holoubek because teachers don't usually play," Honke said. "I think the audience enjoyed it because it's unique."
Holoubek noted that the ensemble attracted many audience members who had come in anticipation for the honor band's concert. 
"There were no seats left," Holoubek said. "We almost had to open the back side of the bleachers."
The band did not disappoint as the audience and even directors of individual schools were impressed. 
"The band performed amazingly at the concert," Holoubek said. "Many of the directors noted that this was one of the best sounding NCC honor band performances since it was started."
For Yutan students, the way the band performed also left an impression on them. 
"I was surprised by how we sounded as a band," Benjamin said. "We (Yutan) have a small band, so hearing how loud and strong a big band sounds was new to me."
Holoubek credits this strong performance to the effort of the students involved. 
"The students put in a ton of hard work," Holoubek said, "especially considering that many of our programs are so different."
Leave a Comment
Donate to Chieftain Times
Your donation will support the student journalists of Yutan High School. Your contribution will help cover our annual website hosting costs, as well as allow us to purchase equipment and produce more in-print editions.
About the Contributor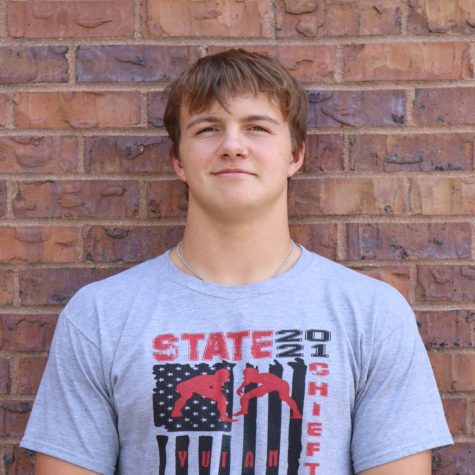 Derek Wacker, Junior writer
Derek is a junior and in his second year of journalism.  He enjoys taking photos and writing sports stories.  Outside journalism, Derek is involved in...