Going undefeated in any season is rare, but that is what the JV football team did this year, finishing with a final record of 6-0 for the first time ever.
"I felt proud of the kids to go through a season like this because we played a lot of C1 teams like Arlington, Fort Calhoun, and to be able to go against schools that have a lot more kids than we do," said head junior varsity coach Joe Dolezal.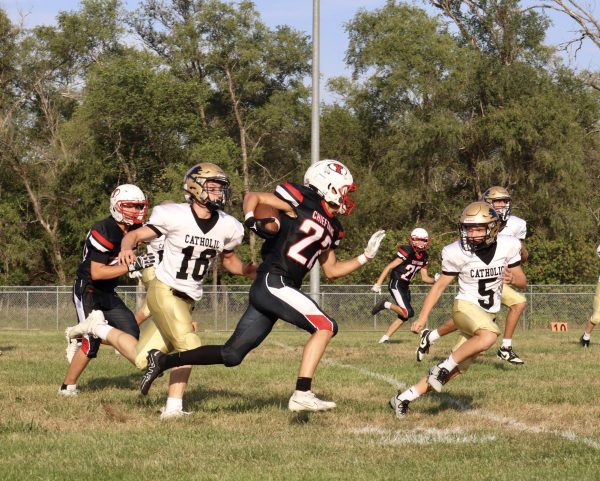 The team had this goal in mind from the start of the season, and it helped motivate them during challenging parts of their games.
"Our goal was to be undefeated and we would say, 'hey we got this, next play,'" said sophomore quarterback Carson Jurey.
This goal didn't take just a good mindset, it took skill and some luck.
"[To stay undefeated, we needed] everybody to stay healthy, everybody on JV to be coachable and to understand their positions and to work as a team," said Dolezal.
Luckily, the teamwork came easy because the players already had strong relationships.
"It really helped that my friends were on the football team and we all could play with each other," said Jurey. 
However, there were challenges the team had to overcome.  One of these challenges the freshmen players had to face was transferring from junior high to high school.
"It was different. [I was] not the strongest kid, not the fastest," said freshman quarterback Nathan Daniell.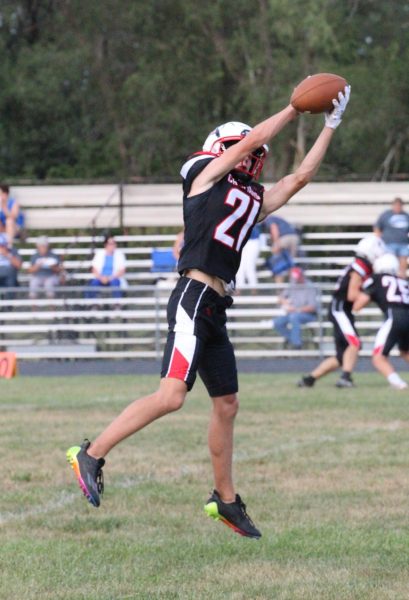 Size played a factor in some games due to the fact that football is a very physical sport, yet the team worked hard on basic skills.
"A lot of times we were out-sized, especially against schools like Fort Calhoun, and just to see these guys find a way to get the job done and just work as a team to win," said Dolezal.
Fort Calhoun, which was the fifth game of the season, stood out to both the coaches and players as one of their toughest games.
"They just didn't give up and they were big," said Daniell.
Even though Fort Calhoun had advantages, the Chieftains were able to get through the struggles and win the game 13-6.
"Playing against them was fun, and we passed the ball a lot, which always makes the game more interesting. There were also a lot of big plays," said Jurey.
Despite all the obstacles faced throughout the season, this team pulled it together and achieved their original goal.
"Everybody went out there and did their job," Dolezal said. "In the end, that's the nice thing about this undefeated season, that everybody had a part in it."