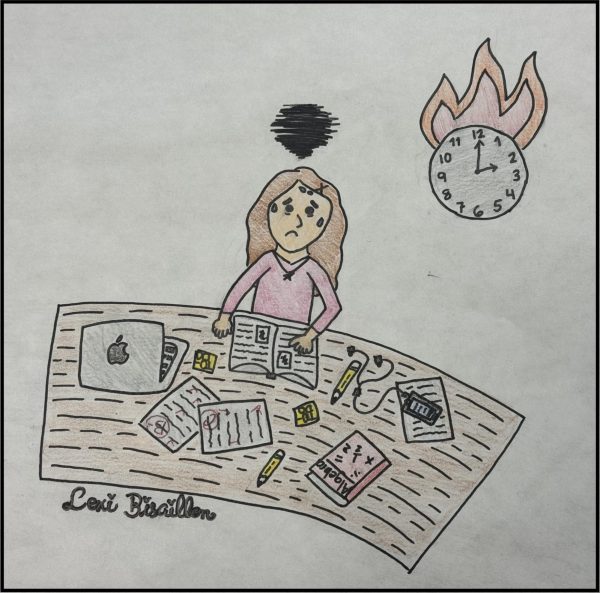 Homework is a big stress in a lot of teenager's lives, mine included. I have homework in things I signed up for, such as journalism and speech, so I'm prepared to have homework in those things. But I can't say I was prepared the first night that I got a huge load of packets and worksheets in the majority of my core classes. I felt so overwhelmed I didn't think I could do it all. I did all that homework in the span of a few hours but didn't get to bed until around 1:00 AM. Since that first big load, it hasn't gotten any easier. More tests, projects and packets keep coming up. And it's hard to handle all that—but I make it work.
Many high school students undergo the pressure of balancing homework with their home life, friends and extracurricular activities and the negative effects that causes. Researchers at Stanford University "found that excessive (over an hour's worth) of homework means students are not able to meet their developmental needs or cultivate other critical life skills at the same time. In other words, students are more likely to give up extracurricular activities, spend less time with friends and family and stop pursuing their hobbies."  However, over 6.8 hours every week are spent on homework outside of school, according to the National Center for Education Statistics. Many students complain about the amount of homework every day, and 32 percent of students think it should be banned, according to jstor.com. At the same time, schools are having to teach their students a lot of skills, and there just isn't enough time in some class periods to do that, which is the reason homework exists. Luckily, there are numerous solutions for students and schools to reduce the stress of homework.
"
"I balance my homework and activities by focusing on one thing at a time."
— Libby Winn
For students, there are multiple ways to help stay more organized and more efficiently finish homework. One of the solutions that helps the motivation factor of doing homework is taking about an hour of non-stop working, then taking a 30 minute break and then repeating this cycle. I've done this numerous times, and it works very well because I get a lot done in that hour, and I get to look forward to the half-hour break afterward. 
However, some students don't have the time for a whole 30-minute break because they have their extracurricular activities to attend to. A solution to help stay focused without using excess time is to get rid of all distractions, such as going somewhere quiet and putting a phone somewhere else so it won't be distracting. 
Time management is also important for these busy students because it can keep them focused and organized. That's why I have a planner, and I always write down my to-do's and homework. Then I know what times I have free and never forget what homework I have.
"I love my planner because it keeps me organized and I never forget an assignment or test," agreed sophomore Madi Ledden. 
"
I love my planner because it keeps me organized and I never forget an assignment or test.
— Madi Ledden
In some cases, however, time management or motivation aren't the problem. That's why schools can pitch in to help students get their work done. One solution would be adding study halls throughout the day for those students who have heavier class loads or more extracurricular activities than others. Not all students are going to use those times efficiently, but those who need it, have it. According to the Randolph-Macon Academy, "By using this time to study or complete their work, students are able to learn in an environment that meets their academic needs and allows them to stay focused and become more confident." 
Another school-based solution would be teachers talking to one another to plan out the dates of projects and tests, as to avoid due dates from falling on the same date. This would help out the students because they can better spread out the work throughout numerous nights. 
At the end of the day, homework will never go away completely, but when one thinks about it, having a good schedule and multiple solutions can make the stress less bearable. By implementing even one of these solutions, you could help reduce the pressure of being overstretched.