STRIV class offers new opportunities for students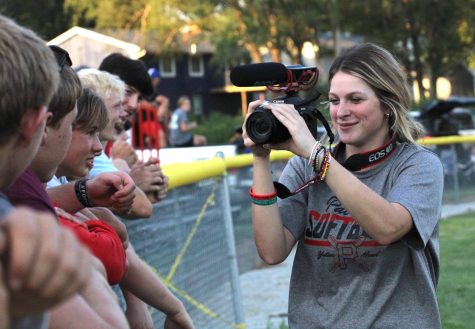 A one hundred thousand dollar grant can do a lot for a school. That's why, along with the new computers, Yutan High School was able to receive equipment for broadcasting and podcasting, which made way for the STRIV class to be added to the schedule this school year.
"Without the grant, we wouldn't have been able to do as many projects, have as many ideas, [and] have as much equipment. It was instrumental in getting this class off the ground," the teacher of the STRIV class, Amy Arensberg, said.
The STRIV class is a large class for an elective, with 16 students, and has a variety of options for projects that are available. However, with the many options and many people come a few more challenges.
"Everybody does something different. Some people like the video, some people like the podcasting, some people just like the digital still shot, so there's a lot of areas going on at the same time," Arensberg said. "It's hard to answer everyone's questions and make sure everyone is on task."
Many different projects students do in the STRIV class require the same skills as other projects, such as filming.
"So far I have helped…with the softball hype video. I take pictures and videos for [it]," senior Emma Abraham said.
One of the first projects the students in the STRIV class are focusing on is the hype videos.
"They make all the hype videos for all the sports, and usually, it's only the sports that are in the gym, but we are currently working on hype videos for all sports regardless if you are in the gym or not," Arensberg said.
Although she doesn't have a specific plan for expanding and developing this class because it's still early in the year, Arensberg has a general idea of what direction she wants the STRIV class to take.
"The hype videos right now are what's the most exciting and that's what we're focusing on in the beginning, then hopefully they will evolve into speech and drama," Arensberg said.
Another project the class has started is podcasting. Although podcasting might seem simple at first glance, there is a lot more put into it than one might think.
"[The students] had to do some research, like find stats, talk to coaches and talk to kids. They film it, then they go back and edit it and then we upload it. It's actually a long process, although the end result sounds great," Arensberg said.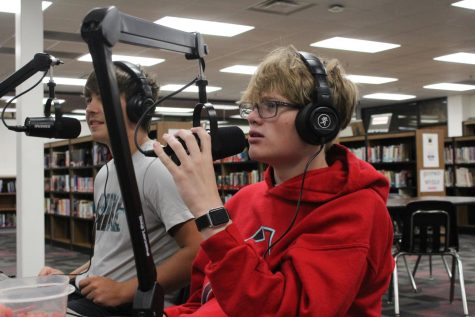 Different students play different roles in these projects. One senior, Brett Martin, works with sound effects for podcasting.
"I work on the soundboard… I try to make sure all the audio sounds good for the podcast and make sure they all can hear each other," Martin said. "I try to add in sound effects into the soundboard so I make it sound more cool."
Like many other classes, the STRIV class lessons apply after high school, which can be helpful whether or not students are involved in this area in the next part of their lives.
"Even if kids don't go on to do anything like this in their careers, just having the knowledge that they've done something like this is huge," Arensberg said.
Abraham also believes the projects they do in the STRIV class will be beneficial in the future.
"It teaches you a lot of stuff about videotaping and just computers in general," Abraham said. "It's a good skill to have."
Leave a Comment
Donate to Chieftain Times
Your donation will support the student journalists of Yutan High School. Your contribution will help cover our annual website hosting costs, as well as allow us to purchase equipment and produce more in-print editions.
About the Contributors
Gabi Tederman, Junior writer
Gabi Tederman is a junior and in her third year of journalism.  She enjoys taking pictures and writing news stories.  Outside journalism, Gabi is involved...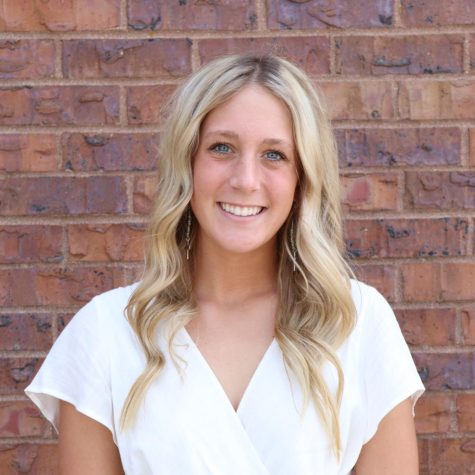 Laycee Josoff, Senior writer
Laycee Josoff is a senior and in her fourth year of journalism.  She enjoys photography, sports feature writing, broadcasting and yearbook.  Outside...