Gardner leads PE and weights in new direction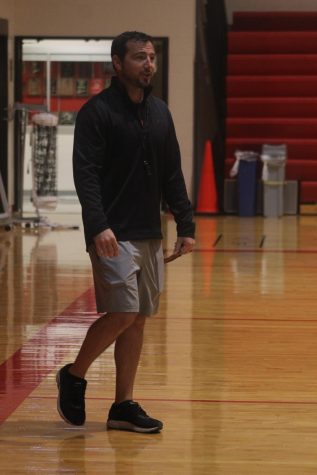 We've seen him on the basketball sidelines, and now we see him in the halls too as the new PE and weights teacher. Jesse Gardner is excited about his new role for the Yutan Chieftains.
"It's been nice to get to know all of the teachers and continue to help make Yutan Schools a great place for our students," said Gardner.
Gardner has known Yutan for quite some time since he attended Louisville High School. While there, he played football, basketball, baseball and track. Gardner was also a part of the Fellowship of Christian Athletes (FCA) program.
After graduating, Gardner attended the University of Nebraska at Omaha to get his undergraduate degree and Doane to get his master's degree. Gardner started his teaching career at Crete before moving to Elkhorn, where he taught for 5 years and coached at neighboring schools.
  "I actually taught in Elkhorn, but I coached basketball at Louisville for two years, so I drove down there and then the last three years I coached here (at Yutan) after school," Gardner said. 
After teaching at Class B schools for almost 9 years, Gardner was looking for a change and wanted to go to a smaller school.
  "I've taught in Class B schools that were much larger, and there were so many people in the building that I didn't even know all of the teachers," said Gardner.  "I always wanted to teach at a smaller school where you know everyone and it's easier to build meaningful relationships."
Many students are excited to have Gardner in the district full-time. Sophomore AJ Arensberg has Gardner both as a teacher and a basketball coach and said he gets to learn more from him as a result. 
"Especially having him as a weights teacher because he's someone that you know and can help me get more athletic and helps me get stronger, which helps me out for basketball in turn. So I learned a lot from him on both sides of that," said Arensberg.
Arensberg said that Gardner has made weights more structured.
"I'd say he's kind of straightforward. Like, whether it's good or bad, he's going to tell you the truth and help you out with whatever you need," Arensberg said.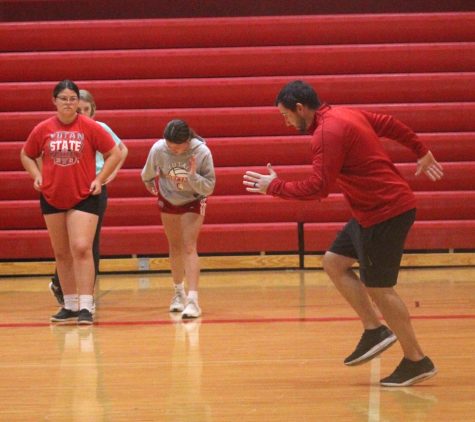 Gardner has made other changes in the physical education department as well. He said he is getting everything lined up K-12 with a vertical map by "creating a pacing guide for each grade that is linked to our state standards" and is having the students complete "fitness testing in the fall and spring so students can see progress throughout the year." Gardner is also making every class do warm-ups, where they will be more physical and more active, and the PE classes will be more physically active by doing additional team-based activities for certain grades.
 Freshman Allison Kirchmann, who is part of the PE classes, said that the addition of the fitness tests makes this year's PE class more competitive.  
"It's a challenge. And since Gardner is serious about it, you want to be serious, you want to work hard. And it's cool to see a baseline because I feel like, at the end of the year, I'm going to be a little more fit because I've gone through three different sports seasons," said Kirchmann.
Kirchmann said the pacer test also helps students develop their mental game.
"When we were doing a pacer test, I was out of breath at like 30 seconds but I told myself, you know what, there's still other people. I'm going to challenge myself and I'm going to put in the work and get to 60 seconds," said Kirchmann. 
Outside the weight room and gym, Gardner is involved in many things around the community. He helps out with FCA, runs the youth basketball program alongside business teacher Clay Carlton and helps coach his kids' sports.
"It's fun to be around my kids and their friends from school," said Gardner.  "They are awesome boys and make it fun to be around." 
Overall, Gardner is enjoying being a bigger part of the Yutan community.
 "Just the small town community, where it's just a hard-working community and there's a lot of support for other people and knowing people, is the nice part," Gardner said.
Leave a Comment
Donate to Chieftain Times
Your donation will support the student journalists of Yutan High School. Your contribution will help cover our annual website hosting costs, as well as allow us to purchase equipment and produce more in-print editions.
About the Contributor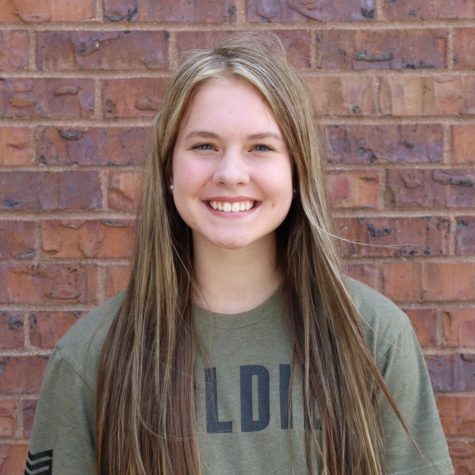 Jade Lewis, Sophomore writer
Jade Lewis is a sophomore and is in her first year of journalism.  She enjoys being with family and friends. Outside journalism, Jade is involved in basketball...