Navigating the course from Greece to Mead
Georgoulopoulos' unique background sparks passion for running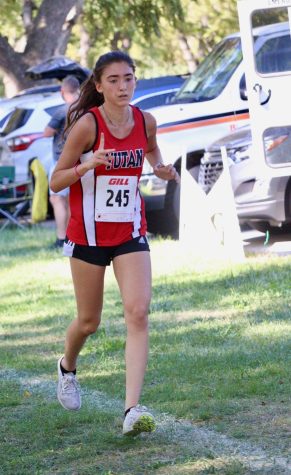 Many people may know Yutan is co-oping with Mead for cross country this year. But what many may not know is that this agreement was pushed for by Mead junior Eva Georgoulopoulos, who also happens to be a top athlete on the team. 
"I sparked it," Georgoulopoulos said. "I really nagged my coaches and principal to get it started."
After the co-op was announced, Georgoulopoulos was excited to be able to train hard during cross country so she can hopefully fulfill her goals for the track season.
"I wanted to do the co-op because I wanted to do better in track so I can get my scholarships," Georgoulopoulos said. "I'm hoping cross country will help me for when track season comes around so I can go to state in track."
Sports have always been a big part of Georgoulopoulos' life. Much of her interest is due to her unique background of growing up in Greece. 
"I lived in Greece for six years," Georgoulopoulos said. "I just did sports every day."
Some of these sports included rhythmic gymnastics, soccer, swimming, basketball, volleyball and track. But it was only when Georgoulopoulos went to a track stadium in Greece that she found her love for running and settled on track.
"My first practice I went to, I went to the stadium and I just ran a lap. And the coach was like 'you have to bring her back,'" Georgoulopoulos said. "It just came really easy to me…and I just enjoyed it, so I just fell in love."
It wasn't just a stadium that interested Georgoulopoulos in track, however. Her dad was big into running and supported her aspirations of becoming a competitive runner from the start.
"He ran with me with my marathons, [and] he took me every day to my practices," Georgoulopoulos said. "If he hadn't introduced that stadium to me and that [track] club to me, I probably wouldn't have done it."
Besides being involved with track, Georgoulopoulos studied at her school, but the Greek education system is very different than it is in America—so much so that Georgoulopoulos said most kids didn't do sports after school but instead they focused on academics. 
"You have to go to a different village and get tutored, and that's what a lot of kids do instead of doing sports because the grading system is very harsh," Georgoulopoulos said. 
This led to her family moving to Nebraska, where a lot of family from her mom's side is from.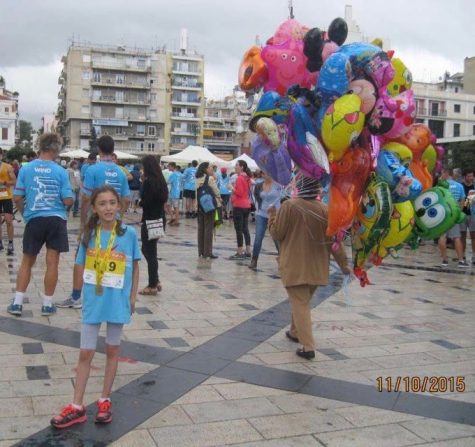 "Their schools and education isn't as good [in Greece], and my parents wanted a better education," Georgoulopoulos said. "We also had family there."
Her family moved to Mead, Neb., where she has now made a positive impact on her cross country team. 
"She pushes the girls (and even some of our boys) at practices and is willing to do what it takes for her to be her best," said head cross country coach Natalie Zabrocki. "She also has a very positive attitude and is always cheering on her fellow teammates."
Georgoulopoulos' hard work ethic has shown in her success this season. 
"So far I've placed every single meet, and the lowest place I've got is thirteenth," Georgoulopoulos said. "My goals for the end of the season are to break twenty-one to twenty-two minutes and go to state."
The coaches also share high end-of-season expectations for Georgoulopoulos. 
"Eva has goals of making it to state in a very competitive district, and I know she has the work ethic to keep making strides towards that goal," Zabrocki said. "I am curious and excited to see how the back half of her season goes and if she can maintain the positive momentum she has going for herself."
While Georgoulopoulos has many short-term goals, her ultimate goal is to compete at the next level. 
"I also see myself running on the collegiate level," Georgoulopoulos said. "It's been my ultimate goal since I was little and first began running."
View Comments (1)
Donate to Chieftain Times
Your donation will support the student journalists of Yutan High School. Your contribution will help cover our annual website hosting costs, as well as allow us to purchase equipment and produce more in-print editions.
About the Contributor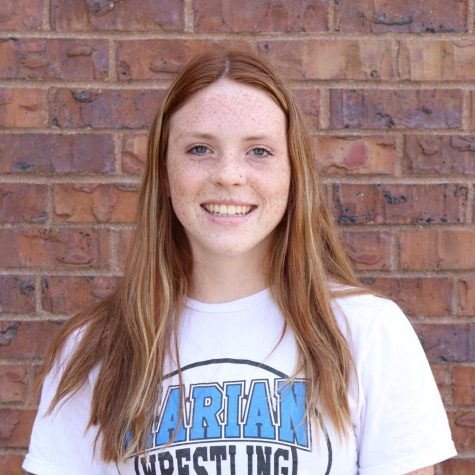 Alexis Pehrson, Sophomore writer
Alexis Pehrson is a sophomore in her second year of journalism.  She enjoys writing stories.  Outside journalism, Alexis is involved in wrestling.