Learning from losses
Football team qualifies for playoffs four years in a row
Losing against three top-ten teams mid-season. For most teams, this would be a setback, but the Yutan Chieftains were not discouraged.
"We have played some good football other than 2 halves, one in the Neumann game and one in the Hartington CC game," head football coach Dan Krajicek said. "We were nowhere near full strength for the Malcolm game, and we almost pulled that one out."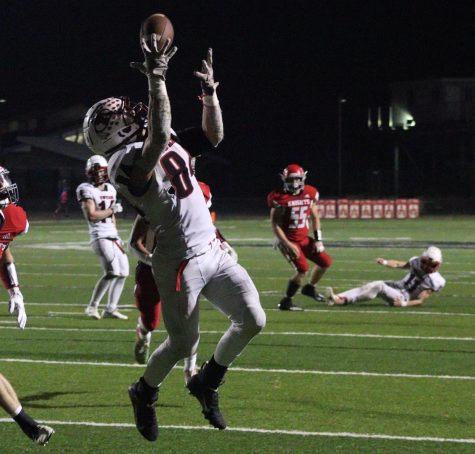 After the losses to Malcolm, Neumann and Hartington Cedar Catholic, the Chieftains defeated the Louisville Lions 63-0 in the homecoming game on Sept. 30. 
"We played extremely well. We killed them. The team played well. Chemistry was up. You love to see it," sophomore tight end and defensive end AJ Arensberg said.
Scoring the first touchdown early in the game, senior running back Zach Krajicek foreshadowed the victory against the Lions.  Following Krajicek's touchdown, junior Derek Wacker racked up two more with the help of his teammates. 
"I owe my rushing touchdown to the line because they opened a big hole, so I was able to walk right into the end zone," Wacker said. "On my receiving touchdown, it was a good ball from Braxton (Wentworth) and a great block from Jett (Arensberg) on the outside, which made it easy to finish it."
The following week, the Chieftains gained another win over the David City Scouts with a final score of 56-7.
"Overall, in the David City game, we were the better team," Zach Krajicek said. "One major thing that helped us during the game was the line's blocking."
Once again, with the line's help, Krajicek scored four huge touchdowns. 
"Most of the scores I went untouched because I was able to get to the third level because of good blocking," Zach Krajicek said. "After that, I just had to outrun the safety."
Trying to keep the Scouts out of the game, senior Jett Arensberg ran a reverse to score a 29-yard touchdown. 
"We called a timeout for this play because Coach saw an opportunity to score, so Zach tossed up a handoff," Arensberg said. "And I beat the defenders." 
After winning some really challenging games, the Chieftains were faced with their biggest game yet. The Chieftains traveled to David City again but this time to face the Aquinas Monarchs. This game was one of the big determining factors in whether they would make it to the playoffs.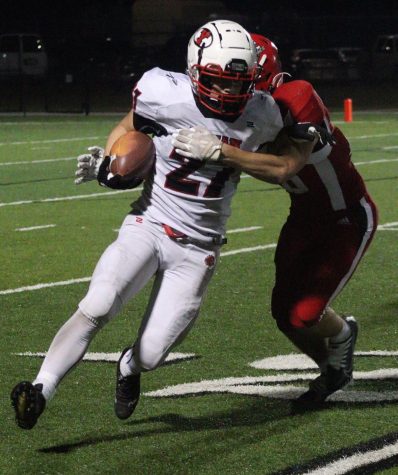 "We were all pumped going into the game because for us seniors our high school football career was on the line," senior kicker Jude Elgert said. "We knew it would be a close one, so we were ready for the battle."
One thing that secured the win during the close game was when Zach Krajicek blocked a punt and scored a touchdown.
"We were only up 8-0 at that point, so it was really nice to get that block and touchdown to swing the momentum in our favor," Zach Krajicek said.
The consecutive wins have built back the team's confidence, especially with the 21-0 win against Aquinas. 
"We've had a couple of ups and downs, but I feel better than I have before," senior lineman Drake Trent said. "I'm very confident in this team, and we're making big strides every single day at practice and games."
The team took this confidence into their last regular season game against Tekamah-Herman and won 43-0, which led them to their final game against Norfolk Catholic in the first round of playoffs. Despite it being their "best-played game" as Trent said, the team fell short of this highly-ranked team with a score of 28-14.  Yet the players were able to focus on the positives.
"Even though we got cut short of our season, I wouldn't have wanted to end my senior season with any other boys," Elgert said.
Leave a Comment
Donate to Chieftain Times
Your donation will support the student journalists of Yutan High School. Your contribution will help cover our annual website hosting costs, as well as allow us to purchase equipment and produce more in-print editions.
About the Contributors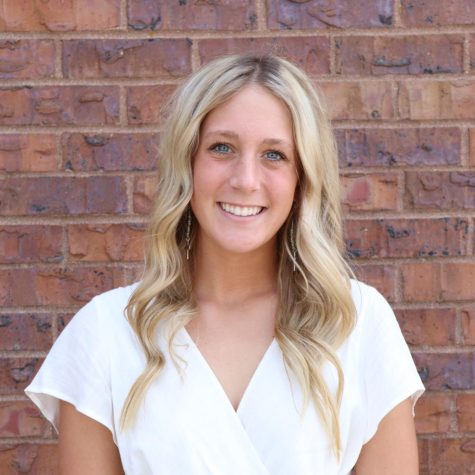 Laycee Josoff, Senior writer
Laycee Josoff is a senior and in her fourth year of journalism.  She enjoys photography, sports feature writing, broadcasting and yearbook.  Outside...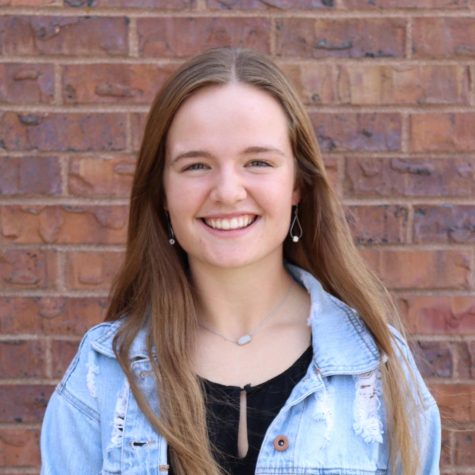 Maycee Hays, Junior writer
Maycee Hays is a junior and in her third year of journalism.  She enjoys taking pictures at school events and writing future stories.  Outside journalism,...