New technology, more students help journalism team grow
Many schools might relax after winning multiple state championships, but the Yutan journalism team is always striving to improve  on even their best accomplishments. 
One way the journalism staff made this happen is by getting new equipment. Journalism advisor Ginger Eikmeier said the program received a new camera, a new camera lens and new Mac computers.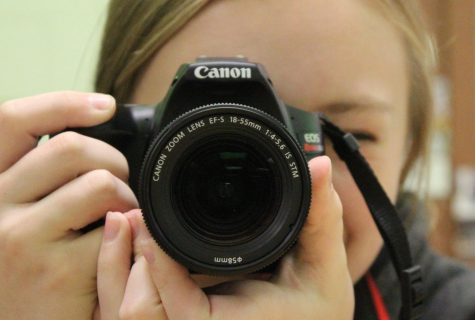 "The new camera and the new lens allow us to take much better action pictures in our gym. That means all of the pictures we take for volleyball, basketball, pep rallies are just going to be higher quality pictures," Eikmeier said. "Our yearbook is going to look better, our newspaper is going to look better and I think the students are having fun using that new equipment."
Not only are the students having fun with the new camera, but they also feel like they are taking better quality pictures.
"Photography isn't one of my strong suits, but I feel like I'm taking better pictures this year than I had previous years," junior writer Haley Kube said.
Not only are the students able to take better pictures, they are also noticing a difference in the time it takes to do certain tasks with the new computers.
"Before you had to wait 15 minutes for having your pictures to upload, and now it takes less than five,"Kube said.
Eikmeier said the students use their Chromebooks for basic typing of their stories and organizing tasks on Google Drive, but the new Mac laptops allow the students to use photo editing software and design software and to produce more print editions of the paper. 
"Being able to have fast equipment to do all of those tasks just adds to the variety of things that we can accomplish in journalism," Eikmeier said.
Another major change to the journalism program is the high number of students involved. This year there are 25 students in journalism, including 13 first-time journalism students.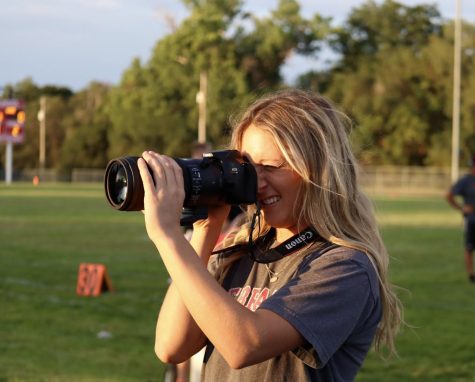 Freshman Kylie Krajicek is one of these rookie members of the staff.
"I have a lot of people I looked up to [who] were in journalism, and that made it seem really fun," Krajicek said.
Krajicek enjoys being able to learn from the veterans in the class.
"For me being new this year, I think having those upperclassmen who know what they're doing really helps when I don't know what I'm doing," Krajicek said.
Eikmeier said having so many students with different experience levels in one classroom can present challenges, but there are definitely benefits.
"It is good in terms of a collaborative space because we have more ideas [and] we can cover more stories at a time," Eikmeier said.
The large number of students in journalism has also kept up Eikmeier's hopes about the future of the program.
"While it's challenging to have a lot of people in class, I think that means that people are excited about our journalism program and they want to be part of something bigger than themselves," Eikmeier said. "And I think that's really cool to see." 
Leave a Comment
Donate to Chieftain Times
Your donation will support the student journalists of Yutan High School. Your contribution will help cover our annual website hosting costs, as well as allow us to purchase equipment and produce more in-print editions.