Play like a girl
Kube, Trent discuss ups and downs of football
When most people think of girls' fall sports, they think of volleyball and softball, but this isn't the case for two Yutan students, junior Haley Kube and freshman Jenna Trent, who are members of the football team.
Kube has been around football since a young age.
"Growing up, my brother was really into football and so was my dad, so I'd always play catch with them," Kube said. 
Even though she was around the sport for a long time, she never had the opportunity to play until high school.
"We always were interested in a flag football league, but I never really got the chance because I played soccer," Kube said. "So when the opportunity came, I kind of just took it."
Kube started playing football her freshman year as a kicker. There are many aspects of the sport that she enjoys.
"My favorite part about the sport is definitely the team atmosphere," Kube said. "There's nothing like it, and just being on the field under the lights on Friday is amazing."
Kube also enjoys inspiring other girls when they see her play.
"The little girls that come up to me after the games…just motivate me because it means I'm doing something bigger than for myself," Kube said.
While Kube enjoys her time, however, being a girl on the football team also comes with challenges, including the fact that not all programs have accepted female players in the past.
 "In previous years, Aquinas, they didn't allow girls to play football, otherwise we would have to forfeit," Kube said. "In order for us not to forfeit, the coach would have to sit me out from playing."
Kube ended up sitting out of the game for the good of the team, but luckily the rule was changed this year, which allowed her to play against that opponent.
"It's a good thing because it not only impacted me, but it impacts a lot of other people," Kube said. "I think it was just something that needed to be done."
One thing that has helped Kube overcome challenges this year is having another girl on the team who is going through the same thing. 
Trent started playing football when she was in second grade because her brother's team didn't have enough players. In the past years, Trent was also the only girl on her football team.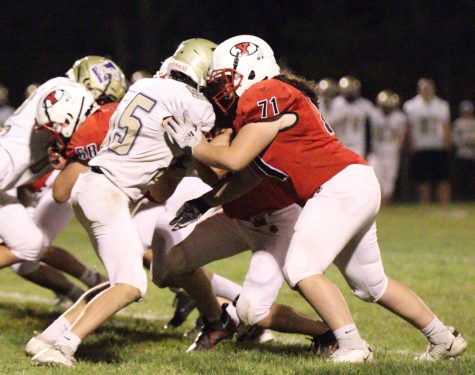 "I've always been the only girl on the team, so it's not really different from anything else I've done," Trent said. "But I think it's a lot more fun now that Haley's on the team."
Trent plays left offensive tackle and enjoys many things about the sport.
"[My favorite part is] the challenge," Trent said. "I play a lot of sports, but none of them challenge me like football does."
One specific memory that Trent has from this season is during JV games.
"It was really fun during JV games because (junior) Cole Beutler was next to me in position," Trent said. "Even if we were winning or losing, he would just say funny stuff, and they would make me laugh."
Kube and Trent aren't the first girls who have been part of Yutan's football program, however. Head coach Dan Krajicek has had girls on the football team eight out of the ten years he's coached at Yutan, and he sees some benefits to coaching girls.
"It gives you a different perspective," Krajicek said. "It's just kind of fun to see people's reactions, but really, the biggest thing is just treat them like you would any other athletes."
Since Kube and Trent plan to continue playing football next year, they are happy to know that they will have each other to rely on. Football allows them not only to do something different but to build relationships they wouldn't normally have, especially with each other. 
"I don't have to be alone anymore," Kube said. "I have someone that can come with me and just help me out."
Leave a Comment
Donate to Chieftain Times
Your donation will support the student journalists of Yutan High School. Your contribution will help cover our annual website hosting costs, as well as allow us to purchase equipment and produce more in-print editions.