Watts and Campbell commit to playing at next level
Most athletes only dream of taking their chosen sport to the next level. For two Patriot softball players, however, this dream is coming true. 
On Nov. 9, seniors Ella Watts and Shaylynn Campbell signed to play softball at College of Saint Mary.
"I was really excited to make it official," said Campbell. "You always hear the horror stories where coaches will pull offers or if she would quit my offer would go away until I sign that sheet." 
Watts was also excited to have her offer set in stone. 
"Once I signed the paper, that was when reality kind of set in, and I knew I was going in there," said Watts. "I'm so excited now."
For Campbell, the recruiting process started many years ago.
"It started a very long time ago, back in eighth grade," said Campbell. "I was always emailing coaches [and] going to these camps to get seen, but emailing the coaches really got my name out there."
Campbell got to know a lot of coaches, and Coach Bray at College of Saint Mary really stood out to her. 
"[Coach Bray] is such a sweetheart. She's the nicest person ever," said Campbell. "She even had a jersey with the number 30 on it that she gave to me, and I'm really excited for her to be my coach."
Watt's recruiting process wasn't as smooth or long, but she still found her way to the same college. 
"For my recruiting process, I struggled a little bit, you know. It took me a while to email coaches, but when I did they all seemed pretty interested in me," said Watts. "That's how I got into College of Saint Mary's."
There were multiple emotions present at signing day. 
"I was so nervous because it was like, this is it. This is for sure gonna happen," said Watts.
Both of their families were supportive of their commitment to College of Saint Mary.
"I would say my family was a huge part of it," said Campbell. "It was my uncle, who's the head coach for the Wayne State baseball team, was the one that really convinced me because he said he knows a lot of people that have gone there and how much they've liked it." 
Watts also experienced support from her family, who encouraged her to pursue softball at whatever college she wanted. 
"My family encouraged me to do what I wanted to do, no matter how much each school offered me," said Watts.  
Now that the signing is done, the girls can anticipate all the experiences they will have next year.
"I loved it. The field, the coaches, the locker rooms, the dorms, everything about it," said Watts. "I'm so excited."
Leave a Comment
Donate to Chieftain Times
Your donation will support the student journalists of Yutan High School. Your contribution will help cover our annual website hosting costs, as well as allow us to purchase equipment and produce more in-print editions.
About the Writer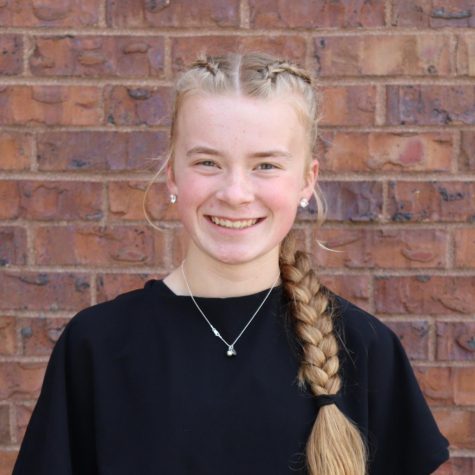 Delaney Shield, Freshman writer
Delaney Shield is a freshman and in her first year of journalism.  She enjoys taking pictures at sporting events.  Outside journalism, Delaney is involved...