Lift like a girl
Friendships bring more girls to powerlifting
For most sports, weightlifting is used as a supplement to improve sports performance. However, for juniors Bella Tederman and Maycee Hays along with freshman Jenna Trent, lifting itself is the sport through powerlifting.
Each of them had a lifting background, but Tederman needed a push from someone to be the deciding factor for her commitment to powerlifting.
"I started lifting when I was in eighth grade," Tederman said. "After that, there [were] a lot of lifting things in my life… and my dad always encouraged me to try powerlifting."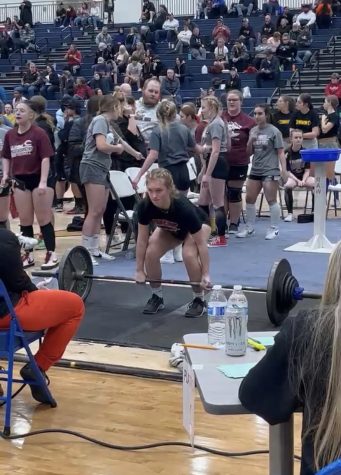 Tederman felt powerlifting would be more enjoyable with friends, so she invited Hays to compete with her.
"I decided to do powerlifting because Bella had been talking about it, and I felt that it would be a fun thing to try out," Hays said.
Aside from the encouragement from family and friends, Tederman also feels support from others in the powerlifting community.
"When you're at a meet, everybody there is cheering everybody on. Obviously, you want to win, but it's always about beating your last record and beating what you think you can do and pushing yourself past your limits," said Tederman, who placed fifth at the raw, or unequipped, state meet. "Everybody wants everybody else to be able to accomplish that."
Unlike Tederman, Trent has not gotten a chance to compete at a meet yet and is looking forward to the energy.
"I'm excited to watch other people, and I'm excited to have the adrenaline of everyone cheering for you and yelling at you to get it up," Trent said.
Hays, who has been to a meet and seen the enthusiasm firsthand, agrees with both Tederman and Trent that the energy is motivating.
"My favorite thing about powerlifting is probably the community at the meets because everyone cheers everyone on no matter who you are, and it's just really cool to see how positive everyone is," said Hays, who finished eighth place at the state meet.
Although there is an abundance of energy at the meets, the atmosphere there does not always translate to practice due to the lack of crowd enthusiasm.
"It's kind of hard to get a good lift in when there's two people who are there and no one to support you," Trent said.
Not all challenges occur in practice, however. Some of the challenges these athletes experience are during the actual powerlifting meets, one being over or underestimating the amount of weight they can lift.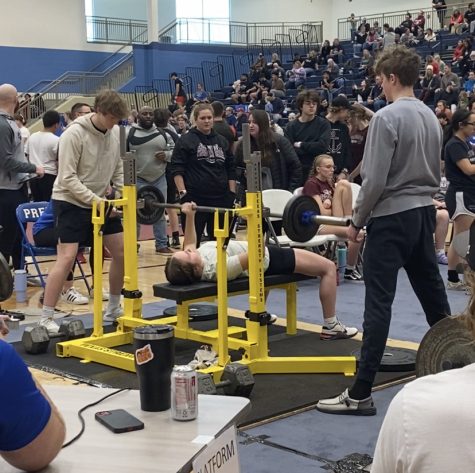 "If you overshoot, now you're stuck with the weight that you hit before that, and if you undershoot, then you end up feeling like you could have done more," Tederman said. 
Despite the challenges, powerlifting can impact athletes in several areas, including attitude, which is affected by personal performance.
"Powerlifting has [given] me a lot of confidence… but it's also humbled me," Hays said. "I know that there are a lot of people out there that are a lot stronger than me."
Even with the ups and downs, the athletes enjoy the challenges powerlifting brings.
"I'm looking forward to pushing myself past where I think I can go because I know anybody can," Tederman said. "I know we can shock ourselves, and I want to be able to do that with myself."
Overall, these athletes have found many benefits by being involved in powerlifting.
"It made me realize that I'm strong enough," Trent said, "and that I'm able to do things that I didn't think possible."
Leave a Comment
Donate to Chieftain Times
Your donation will support the student journalists of Yutan High School. Your contribution will help cover our annual website hosting costs, as well as allow us to purchase equipment and produce more in-print editions.
About the Contributor
Gabi Tederman, Sophomore writer
Gabi Tederman is a sophomore and in her second year of journalism.  She enjoys taking pictures and writing.  Outside journalism, Gabi is involved in...