Growing the program
Henkel and Vaughn-Lantzer take on wrestling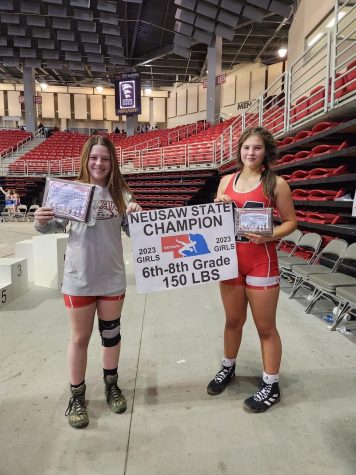 With high school girls wrestling growing rapidly, it has sparked the interest of younger female athletes who hope to get a head start in the sport before high school. Two of those girls, eighth-graders Amalea Vaughn-Lantzer and Ella Henkel, started wrestling this year and are already starting to see success.
Both girls were drawn to wrestling for different reasons. For Vaughn-Lantzer, wrestling interested her because it is a "physical sport."
"I really like physical sports," Vaughn-Lantzer said. "I mean, most sports are physical, but it's different when it's just you and another person."
Henkel likes wrestling because it comes with many benefits beyond just the exercise.
"It's made me stronger both mentally and physically," Henkel said. "It teaches me to never give up when things get hard and to always push through."
Henkel was inspired to wrestle by her parents and her brothers. Her older brothers, Sean and Tyler, used to wrestle in high school, and her twin brother, Otto, still wrestles now. 
"[Otto]'s always helping me by giving me advice on my moves," Henkel said. "If we're watching one of my videos, he'll pause it and will try to help me do the move better… since he's more experienced."
Wrestling is also part of Vaughn-Lantzer's family, as her step-dad used to be a wrestler.
"He pushes me to go far in the sport and wants me to succeed," said Vaughn-Lantzer. "He motivates me to do the best I can and to not give up on it."
These two girls not only have support from their families, but they also support and help each other get better.
"[Amalea] helps me improve because we make it fun, but at the same time we get a lot done," Henkel said. 
Another aspect that helps them improve is being able to push each other in the practice room every day.
"It helps because there's another girl and we're really close friends," Vaughn-Lantzer said. "It can be really fun, but it can be really hard because we can be hard on each other."
Because they are so new to the sport, they can be hard on themselves as well.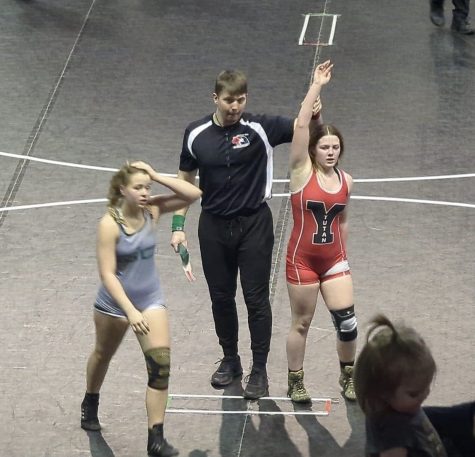 "Sometimes before a match, I start getting all nervous and doubting myself," Henkel said. "But when you start wrestling, you're kind of in the zone, so if you know you can beat them, you can beat them."
Their confidence has been built with the success they've seen at all the tournaments they've competed at this season. They both have winning records and placed first and third in the 6-8 girls division at Nebraska USA State.
"[Winning state] felt really good because it was only my first year, and if you work hard enough, anything is possible," Henkel said.
Vaughn-Lantzer also had a good run at state, placing third in her bracket.
"It gives me an idea on what I need to work on and how it feels to just be in that big of an arena," Vaughn-Lantzer said.
Besides having a successful season, they have also had many memories that made their first year unforgettable.
"One time in a match, I head-threw this girl really hard, and I pinned her right away," Henkel said. "It was a girl that I was worried about wrestling."
Vaughn-Lantzer's favorite memory was from USA state.
"[The most memorable part was] all the people you get to meet there and just having a big crowd and a lot of people watching," said Vaughn-Lantzer.
Overall, they hope that with all the success they've already had this season, more girls at Yutan will be inspired to go out for wrestling.
"It feels pretty good because then we can motivate other girls to join," said Vaughn-Lantzer. "We can be people that they look up to."
Leave a Comment
Donate to Chieftain Times
Your donation will support the student journalists of Yutan High School. Your contribution will help cover our annual website hosting costs, as well as allow us to purchase equipment and produce more in-print editions.
About the Contributor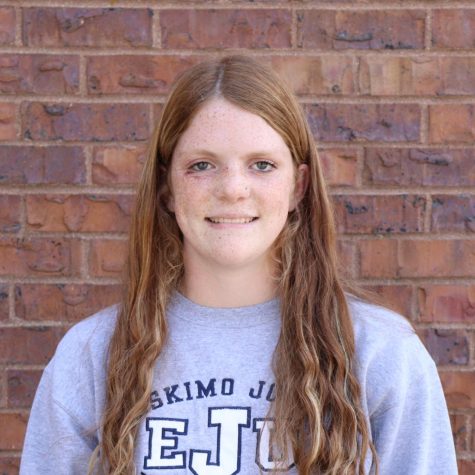 Aubrie Pehrson, Sophomore writer
Aubrie Pehrson is a sophomore and in her first year of journalism.  She enjoys writing.  Outside journalism, Aubrie is involved in wrestling and cross...