Audience entertained by bad auditions
Yutan's all-school play wraps up successful season
What would you do if you were a casting director and had to fill a role by the end of the day? And the only actors your goofy assistant brought in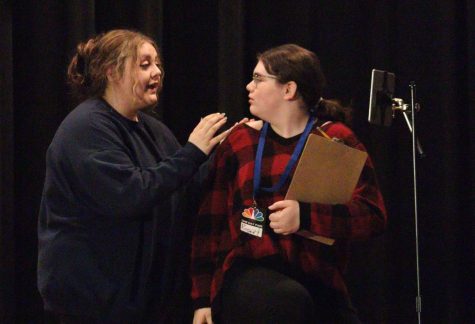 were all horrible or unavailable? Well this is what happens in Yutan's all-school play "Bad Auditions On Camera" Which was performed for the public on Apr. 1 and Apr. 2.
Starring in the play this year were junior Skylar Crews and freshman Bella Sliva. Crews played the casting director who needed to fill the role of a lawyer in Crime Court. Sliva's character, Rodger, was messing around throughout the entire play, which made the casting director constantly frustrated. Overall, Crews was happy with their final performances. 
"I really liked Saturday's show a little bit more than I like Sunday's show. But I think overall, it was good and everyone did an amazing job," said Crews.
The show was special for many reasons, one reason being that the audience got to choose which character wins the part at the end of the play. Junior Reagan Wilson won the role one night with her character Kellen. 
 "I liked how we had like the audience involved, and they decided how the play went. I thought that was really unique and super fun to be a part of," said Wilson. 
Wilson had also played two other roles in the show, Rodger's grandpa and Gina Marie's gamer kid. 
"I played three different parts. But my favorite part probably from all of them is just when they lose their minds, I guess. I just, I like being loud in plays, and every single character I played had that. And they all made people laugh, so that made it that much better," said Wilson.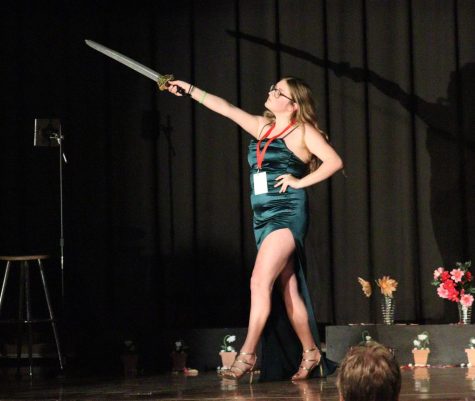 The show went smoothly not only on opening night but also during practice. All-school play director Matt Gunter said that this year's show was less stressful compared to past shows. 
"This year's play to me was probably one of my favorite plays we have done in the past ten years. Last year's musical we did 'Aladdin,' and it was so much fun, a lot of stress but a lot of fun. This year's play production felt very stress-free, and that is because the students came to work every time we had practice," said Gunter. 
Wilson also agrees that this year was more relaxed compared to the shows she has been a part of. Part of the reason was that the roles were very natural for most of the actors. 
"I feel like it was a lot less stressful compared to other years that I've been a part of it. I feel like people will really fit for the roles that they were given, and that it was almost like they were playing themselves in some areas," said Wilson.
Gunter also said that the easygoing cast and crew was one of the factors that lead to the result of a stress-free play. 
"They were willing to try new things, step up and adjust to my notes. This group just 
brought a fun and relaxed atmosphere to the play," said Gunter. 
While many of these actors were veterans, this year's play also had novice actors like senior Janel Bussing, who had watched the shows before but had never tried out for a part. 
"My favorite learning experience is just pushing myself to go out of my comfort zone and become better at acting," said Bussing. 
One thing new and old members of the show had in common was that they all committed to their role and made it their own. 
"I really liked how everyone got more comfortable into the role as the show went on," said Crews. "It was just a very fun season with a bunch of nice people."
Leave a Comment
Donate to Chieftain Times
Your donation will support the student journalists of Yutan High School. Your contribution will help cover our annual website hosting costs, as well as allow us to purchase equipment and produce more in-print editions.
About the Contributor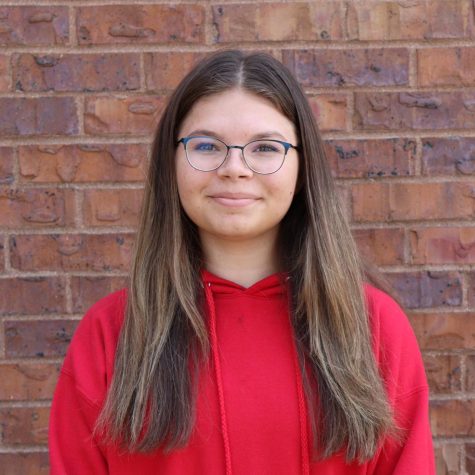 Maddie Bailiff, Freshman writer
Maddie Bailiff is a freshman and in her first year of journalism.  She enjoys writing, making bracelets and spending time with friends.  Outside journalism,...