Volleyball team starts season with success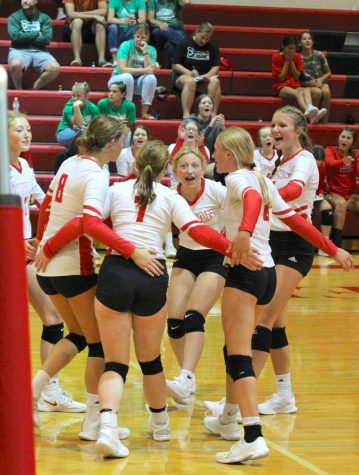 Despite losing five varsity starters from last year's graduating class, the Yutan volleyball team has started their season off with a bang with a record of 18-3 as of mid-September.
With the loss of so many starters, it was quite a challenge to find the right combination of players for the highest chance of success.
"We've replaced our primary attacker, primary receiver and primary defender. On top of that, we replaced our setter, who was the glue to our team," said head coach Jodi Bierman.
The team started working on these changes during the summer to make the best possible outcome.
"This summer we tried a lot of different things. Having two returning starters to build around seems easy, but there were so many potential combinations," Bierman said.
Most of the girls played multiple positions throughout the summer. Not only did they work on defense but they also tried to improve their offense with many different approaches.
"So, after spending a lot time trying things out over the summer, we found a rotation that seemed to produce the most consistent opportunities to win matches," said Bierman.
On top of having to come up with a new lineup, the leadership dynamic is different with one senior instead of five.
This year the volleyball team has only one senior, Zoie Nielsen.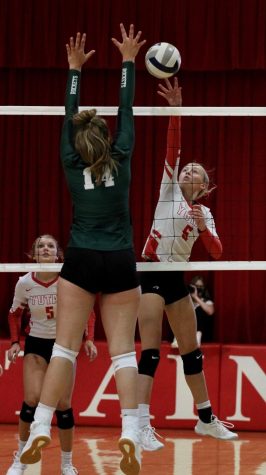 "Well, it definitely has its cons and pros," Nielsen said of being the lone senior.
Nielsen said that the cons consist of everyone else having a classmate on the team. However, there are some pros that she enjoys.
"The pro is I get to be with all the [volleyball girls], and I love being able to hang out [with] the underclassmen, and I get a stronger connection with them," Nielsen said.
This strong connection between players is something that has helped them so far this season.
"Our team is like a family. We all get along very well and we trust each other. We act like best friends on and off the court," said varsity captain Ellie Lloyd. 
Bierman agreed, saying that the players are really close this year.
"They seem to really want to see each other succeed. They have been really encouraging to each other and providing each other actionable feedback," Bierman said. "What I mean by that is that they are each trying to help each other. They aren't pointing fingers when errors occur; they are positive and provide encouragement and try to pinpoint how to make it better the next time."
The team hopes their strong bond will help them achieve their goals, including making it to state.
"Our team hopes to make it to state this year and win the district final because we kind of got heartbroken in that last year," Lloyd said. "So we hope to get over that slope and make it to state."
View Comments (1)
Donate to Chieftain Times
Your donation will support the student journalists of Yutan High School. Your contribution will help cover our annual website hosting costs, as well as allow us to purchase equipment and produce more in-print editions.