With 14 seniors, Yutan High School's varsity football team is not short of leadership, but some still stand out. Among these seniors, captain Derek Wacker is ready to make his mark as a four-year varsity starter and a key leader on the team.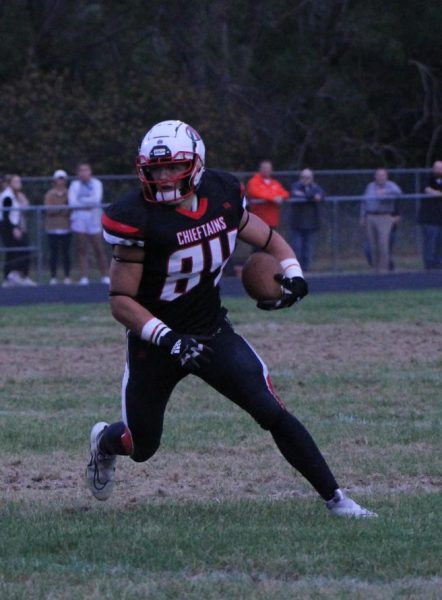 "He's been a really good vocal leader, and everyone believes him because he backs it up. He's always out front doing everything first before he's telling anybody to do it," head coach Dan Krajicek said.
Wacker developed his leader mentality by following the examples of many past Yutan football players who all made a big impact on him during his first two years of high school.
"Josh [Jessen] had the best work ethic out of anyone that I've known so far, [Isaiah] Daniel was a vocal leader and then Sam [Petersen] helped me out a lot when I was a freshman," Wacker said. "Sam got me on varsity reps, so I know now that I need to include the young guys."
Because of these past leaders, Wacker has been able to figure out his own style of positive leadership.
"I always want to be positive, but sometimes people need to be broken down a little bit before you build them back up," Wacker said.
Wacker also leads by example with the hard work he puts into practice.
"Derek makes sure that we are all on task and doing everything we should while still having fun every day," sophomore Tyler Keiser said.
Wacker's strong work ethic will be useful this season as he takes on the main position of linebacker, which is different from his past positions of defensive lineman and defensive end.
"This is my first time actually playing linebacker as my main position," Wacker said. "Now my responsibilities are to stop the run, and so mentally, I need to make my decision in an instant to be able to shift my defense into the right formation."
While these adjustments will take some extra effort, Wacker is ready to work alongside the other 13 seniors to lead the team to a successful season.
"The senior class has really put a lot of work in since we were freshmen, so we know that we can be successful and make a difference if we put our hearts to it," Wacker said. "We have a great opportunity ahead of us, and all we need to do is finish the season how we want: as state champs."