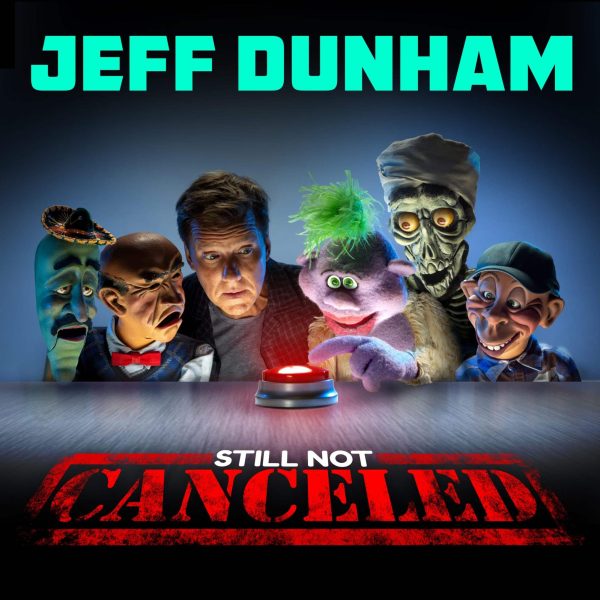 Since he was eight years old, Jeff Dunham has been stunning people with his comedic ventriloquism. From the 18 years of performing at comedy clubs to the record-holding tours, Jeff Dunham is considered one of the greatest comedians of all time. And after seeing him in person, I can see why. 
On Oct. 7, I had the pleasure of seeing Jeff Dunham perform at the CHI Health Center for his most recent tour, "Jeff Dunham: Still Not Canceled." Just like every other performance in his tour, Dunham brought out five puppets: Walter, Bubba J, Achmed, José Jalapeño on a Stick and Peanut. However, unlike other shows, we were able to get an entire performance dedicated to providing a sneak peak of Dunham's upcoming Valentine's Day special, which will be released next year on Comedy Central. 
For the Valentine's Day preview, each one of Dunham's puppets took turns describing to the audience how people should celebrate Valentine's Day with their loved ones. Walter was the first puppet to take the stage, but to the audience's surprise, he was dressed like Cupid. Walter is known to always be super grumpy and ill-tempered, never afraid to say whatever is on his mind, so it was hilarious to see him dressed up as a character that represents love. He made lots of jokes about how he and his wife celebrate Valentine's Day, though compared to most people's marriages, Walter's is full of hatred towards his wife for no apparent reason. I thought that these jokes were some of the funniest ones from Walter's segment, really showing his personality in his comedy.
After Walter finished his segment, Dunham brought out the second puppet of the show, Bubba J. Bubba J is based on a stereotypical redneck, so lots of the jokes that were made during his segment were about him and his wife being related. One of my favorite moments from Bubba's section of the show was when his lazy eye would drift off in all sorts of directions, and judging by the audience's reaction, it was one of their favorites too. Although Bubba J's lazy eye was one of my favorite parts of the show, as a whole, Bubba J was probably my least favorite character. He wasn't unfunny or anything like that, I just think that the other puppets had funnier segments.
"
His jokes were some of the best-written jokes I've heard from Dunham, and even he had to stop to catch his breath from dying of laughter.
The third puppet to come out on stage was Achmed. Achmed is a skeleton who blew himself up while trying to complete his terrorist mission. Because the media has become uncomfortable with Achmed being in Dunham's shows, Jeff dressed up Achmed as a Greek god and called him Achmedes. "Achmedes" explained his troubles with finding love for Valentine's Day because he is dead, as well as a terrorist. Achmed is known to have his limbs fall off during his segments, which I, including the rest of the audience, found extremely funny. For every other show, Achmed has a signature line that he says: "Stop! I keel you!" However, because he was Achmedes for the show, his new line was, "Stop! I keel you…with love!" Out of all the puppets, Achmed was probably my favorite. His jokes were some of the best-written jokes I've heard from Dunham, and even he had to stop to catch his breath from dying of laughter. I particularly enjoyed how Jeff didn't change a ton about Achmed just because some people were uncomfortable with him. He stayed true to his roots and did what he thought would bring the most laughter to everyone watching, which I thought was super cool. 
After Achmed was done with his Greek god bit, two final puppets took the stage: Peanut and José Jalapeño on a Stick. Peanut is an extremely hyper purple monkey who never seems to have any respect for anyone but himself. José, on the other hand, is always very relaxed. Together, the two puppets get into arguments about almost anything, but for my particular show, they argued about what to tell someone you love on Valentine's Day. After they argued for about ten minutes, Peanut started to make fun of Dunham, which was really funny because it was like watching someone make fun of themselves. Another really funny part about Peanut's segment was when he answered questions that the audience had written before the show. Somehow he ended up pretending like he didn't have a tongue, and the audience responded with some of the loudest laughter I have ever heard. 
"
Overall, I thought the show was fantastic, and I recommend it to anybody who is in need of a good laugh.
Overall, I thought the show was fantastic, and I recommend it to anybody who is in need of a good laugh. Although it probably shouldn't be watched by younger kids, going to a Jeff Dunham show is a perfect way to listen to some outstanding comedy. So if he comes back, try to see him live, but in the meantime, you should make the time to watch any of his many specials on Netflix, Comedy Central, Amazon Prime and most other streaming services.