Usually, the band is bringing the school spirit in support of other teams reaching their accomplishments, but now they have their own competitions to participate in and find success. Like many other schools, Yutan's band experienced a lull when COVID hit, but in the last two years, band director Hunter Holoubek has been working to rebuild the program. 
In his first year as director, Holoubek worked to create a base for the band to build upon.
"Last year we kept it pretty similar to what they did the year before. We went to two parades along with our homecoming parade," Holoubek said. "So we had three events. We just did those parades and really just kind of set a foundation of what marching band is."
This year, however, the band stepped it up in both competitions and skill. 
"I saw a lot of improvement [over the last year], playing wise and marching wise," sophomore trumpet player Madalynn Bussing said. "This year we were a lot more in step and everyone knew what they were doing."
Marching band has two different types, one of which is parade marching, where the band marches in the street, as they would in a parade. Yutan's goal for parade marching was to improve their scores, which they did by practicing and taking part in parades.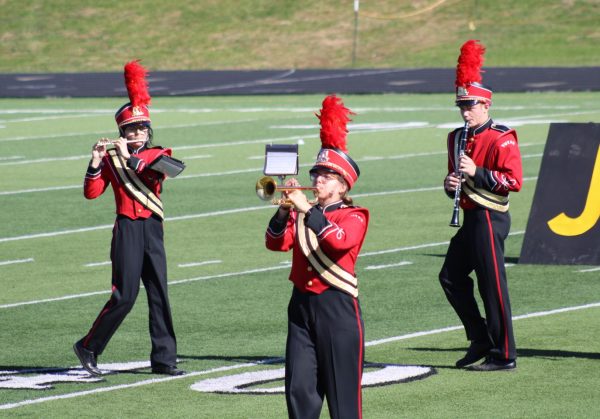 "My goals for this year were to really improve upon the parade marching aspect of our program, which we did meet that goal. We… got probably 25 to 30 percent higher scores in our scoring in parade than we did last year," Holoubek said. 
Because they were successful in parade marching and had more people in the band this year, Holoubek felt they would be able to take on more in regards to competition and decided to add field marching. 
For field marching, which is the second type of marching band, the band marches on a football field in specific formations that are aesthetically pleasing to watch. 
"[In field marching], to start we all march out to the 50 (yard line), and then [Holoubek] has us all break off into our starting spots," senior clarinet player Joey Benjamin said. "Then every song, we have certain spots we march to while playing and then it resets between the songs."  
To help them step up their skills and experience for both types of marching, the band picked up three more competitions in addition to the ones they did last year. 
"We went to several new competitions. We went to the same ones that we went to last year, but we added two Wednesday competitions that were during the school day, which allowed us to have everybody there participating and to let us go learn, 'What is this all about?' in a very safe environment," Holoubek said.
Another thing that helped the band step up their performance this year was the increase in participants.
"Because last year we had no seniors, we didn't lose anyone," Benjamin said. "But then we had a lot of freshmen this year, so it got a lot louder."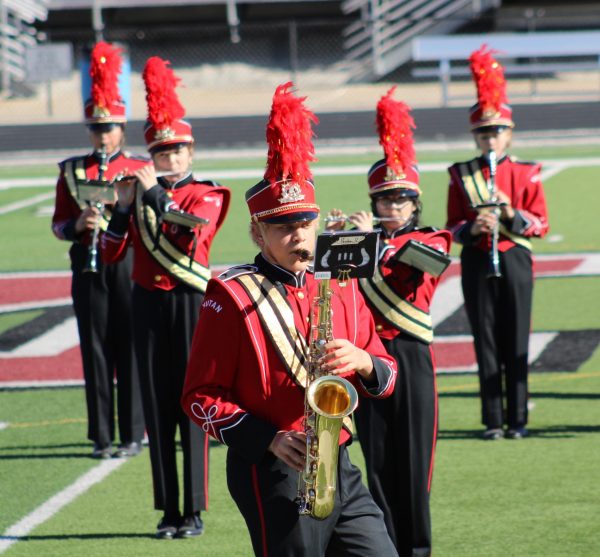 With more regular season competitions and more participants this year than last year, attending the state band competition for the first time since 1989 was on the table. Holoubek was originally unsure of whether the band would compete at state, but due to their success, he signed them up. This proved to be the right move, as the band won the NSBA Class 1A state marching band competition to cap off their season.
"Starting the year, I didn't really think I would take us to state," Holoubek said. "But when I saw how much work the students put into it and how well they were executing everything, I decided to add us on to that, and it turned out really well for us."
Performing at state, which was held at Millard South on Oct. 21, brought nerves and excitement for the band members, as well as a hunger for success. 
"State was a lot more nerve-wracking because you wanted to do your best, that way you would actually try to get first. It was a lot different since we were first (to perform), and it was the most nerve-wracking for us because we had to get everything set up," Bussing said. "It was really exciting when we won, but it was a little upsetting that we couldn't cheer right away because we had to act formal."
Holoubek hopes that the success the band experienced at state and throughout the season this year will set them up for future years. 
"So I think that specific goal wise… the more people that we can get, the better we can be. And along with that, also building a strong culture around the high school program," Holoubek said. "That, I think, is my biggest goal right now, to finish the year out and to continue on to next year, just really building that culture of being proud of what we do and feeling like we are a strong part of the school spirit."