Taylor Swift has made her mark in pop culture and now the theaters too. From starting on small stages to performing in sold-out stadiums, this pop star is now filling movie theaters around the world with the "Taylor Swift: The Eras Tour" movie. Being released on Oct. 13, this one-of-a-kind film has a run time of 2 hours and 49 minutes. This hit has already broken multiple box office records including the highest-grossing concert movie of all time. After I got a chance to see this film, it was easy to agree with all the positive responses it has gotten. For the people like me who didn't get the chance to attend the concert, the movie was a great way to experience it at a better price and in an easier place. I loved dancing and singing along to the songs with everybody. It really brought together everyone like it was a real concert. Even with some differences between the film and real-life experience, the concert film still does an astounding job capturing the emotion on fans' faces and the notes of every song.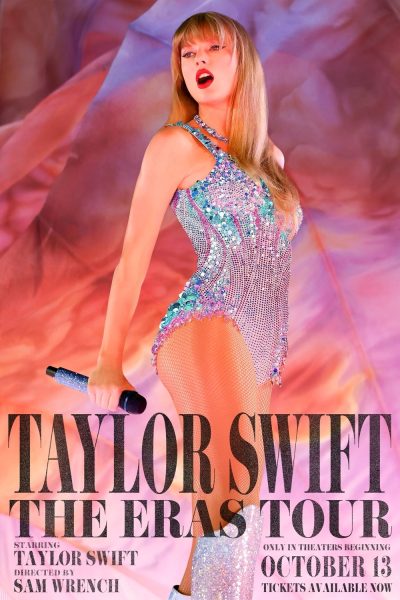 My attention was grabbed from the start by the concert's unique beginning. Instead of starting straight out with a song, the movie introduces the concert with a countdown from thirteen seconds. Once the countdown had finished, we could see seven dancers walk out onto the stage with giant fabric fans placed on their backs to imitate peacock feathers. After the dancers were in their spots, they placed their fans toward the ground to reveal Taylor Swift. It was a great start because you would never expect her to be introduced in such a special way. 
Swift started the set list off with the "Lover" era, and the movie includes five of the six songs from this album that Swift originally performed live. One of them included "Cruel Summer," which was a fan favorite. Personally, it was one of my favorite performances with its breathtaking vocals and amazing presentation. During the bridge of  "Cruel Summer," she really included the crowd by asking them to sing along, which greatly added to that set. 
After Swift finished her last song of that album, she exited the stage for a quick costume change. Once she returned, fans waited to see which costume she had chosen. With over forty different ones to choose from, fans also got to experience the anticipation of seeing what outfit she had chosen in the film. I loved getting to see if she wore my favorite outfit, as it really added to the experience and the concert feel. 
The third—and one of my favorite—albums being featured on the set was "Evermore." This era also had a song cut from the film, though Swift still included her thrilling performance of "Tolerate It." This song had an exciting performance where Swift really acted out the lyrics with her expressions and moves. Even in the theaters, I still experienced all the sadness of the heartbreaking performance that comes with this song. 
One of my favorite parts in the movie came a couple of sets after "Evermore." This was the tradition where Swift granted a lucky fan her "22" hat. She wore this hat on her first song of the "Red" era. Just before the song finished, Swift walked down to the end of the stage, where she met a fan and placed the hat on their head. Hugs and high-fives were exchanged before Swift returned to her dancers to finish out the song. I really loved seeing her do this because it really showed how much she cares for her fans.
The "1989" era came shortly after the "Red" era. This set gave off an amazing performance, which I personally enjoyed more than I thought I would. During the second song, "Blank Space," four dancers come out riding on neon blue light-up bikes. They circled the stage while she sang. While some dancers were biking around, more dancers came out with golf clubs that lit up the same way as the bikes. This performance gave a really good visual of both Swift and the dancers with the neon lights. I loved how each set was different, and this one really stood out to me.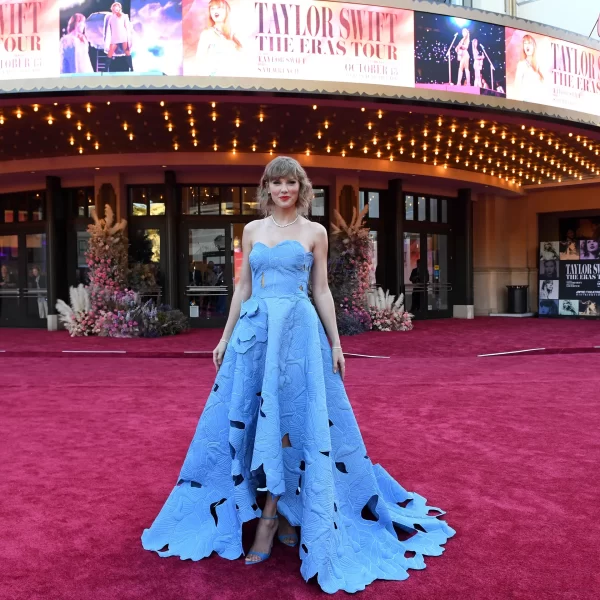 Before the last era, "Midnights," the live concerts would have a surprise set where Swift would play an acoustic song on guitar and an acoustic song on piano. The movie's viewers did not miss out on the excitement and anticipation of predicting which surprise songs Swift was going to include, and I thought she chose great ones. The first surprise song was the classic country song "Our Song." Played acoustically on her guitar, Swift did not miss a beat. Since she didn't play any other songs from her self-titled album, it was a great surprise to have one of the most loved and famous songs included. Her second surprise song, which was on the piano, was "You're on Your Own, Kid." This song was from her more recent album "Midnights." Like "Our Song," this song was upbeat and entertaining to watch even on a screen. This song also inspired fans to make friendship bracelets, which were traded at both the concerts and the movies. Even though fewer people were present at my theater than a live concert, fans of all ages were trading bracelets with each other. 
The last era of the concert and film was "Midnights." This era featured many amazing lyrics and astounding vocals. With its seven songs played, Swift ended with "Karma," which was very amusing to watch with the dancers' sparkly jackets and passionate dance moves. Even in theaters, we really got that melancholy end-of-concert feel. 
Once Swift had bowed to the ground, the screen went dark, starting the credits with "Long Live" featured as a studio version. This song is from the "Speak Now" album, which is my favorite era. Even though it appeared behind the credits, Swift still showed off that era very well even with just one song. 
Overall, the moviegoers got a great experience with everyone enjoying themselves like it was a real concert. Although there were songs cut short, the traditions and excitements of moments like the "22" hat and the surprise songs still were visible in the movie. Taylor Swift really brought this concert to life in a smaller space. Not only did she make the experience memorable, I loved how she made sure her fans knew she cared for them by leaving them a message in the end credits. Concert or movie, it was an experience of a lifetime that I really enjoyed.