On paper, the cross country team might not have appeared to have a successful season, with no team trophies or state qualifiers, but this doesn't mean they didn't find success in other ways. Whether that was breaking personal records (PR), performing well during districts or improving mental motivation, the team had several accomplishments to celebrate over the course of the season.
One accomplishment mentioned by head coach Joel Carrillo was that all but three runners broke their personal record (PR) during the season. One of these athletes achieving a PR was sophomore Madi Ledden.
"So my all-time PR last year was at Fort Calhoun. I ran it 26:27, and then this year, districts was at Fort Calhoun and I ran an all-time PR again, 25:54 on the same course," Ledden said. 
Another major PR of 18:37 was by senior Bryce Kolc, who has been a part of the cross country team since seventh grade. Kolc placed twice this season at East Butler then Pender.
"It was very fulfilling to reach some of these goals because I've been working towards them for four to six years. So it's just nice to be able to accomplish," said Kolc. 
Though many goals were achieved, the team faced some challenges as well. Before the season started, Carrillo tore his Achilles tendon, which meant he could not run with the team during practices.
"I was kind of soft on them a lot this year just because I always run with them so that I know how bad it feels when we practice. That way I know like, okay, their complaints aren't just made up," Carrillo said. "It was kind of tough the whole time because I wasn't out there with them every moment like I normally am when I'm running with them.  I felt a lot of sadness for not being able to push them like I normally do." 
The runners also faced some individual challenges, especially with their mindset.
"Sometimes it doesn't feel like you're making a lot of progress. Not every day is a good day, and some days you don't run your best. Some days you don't run good at all, but you just have to keep trying, keep showing up anyway," Ledden said.
Carrillo agreed that the runners had to overcome some issues with mindset.
"Some of the challenges throughout the season were racing attitude. A lot of people got kind of tired or the overall competitiveness wasn't very high this year, except for like, a couple of the boys. So that was kind of a big challenge, getting them to realize we've got to compete every single time to do this," Carrillo said.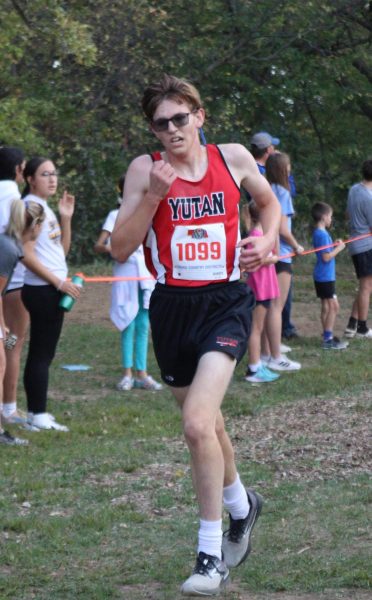 Another challenge for some meets, like conference, was the weather.
"Conference was pretty interesting. We've never ran that course before, so we didn't really know what to expect. And it was really windy and the weather was not great. But everyone ran pretty well," Ledden said.
To help them avoid these challenges for the district meet, the team prepared by running the course the practice before. This improved their mindset while running and prepared their physical state for the course as well.
"I thought we had a fantastic performance in districts. And I attribute part of it to going out Saturday before our meet to run the course. We measured out the 1k marks and did repeats and now, it's like you know what to expect and how far along the race you are in," Carrillo said.
While some runners performed well enough that they might have qualified for state in past seasons, their district this year had very challenging competition.
"This year was a lot faster. They shuffled us up pretty good. And we went against schools that we're not normally against. So Mount Michael, that group, they usually have like 50 kids out for their cross country team. And then their top meet kids are usually under 19 minutes, which is extremely fast," Carrillo said. "Plus other schools [like] Wahoo, Fort Calhoun, they're all pretty good this year."
Even though no runners qualified for state, there were still a lot of valuable experiences gained over the course of the season. Relationships strengthened as a result, and that's what will linger with the team now that the season's over.
"It was very bittersweet," Carrillo said. "And then happiness in the family that we built. Even though we weren't as competitive as we've been before, we were much closer than I feel like we've been before."