Every family experiences their own challenges from time to time. For Captain Mark Ray and his family, this challenge is being separated from each other months at a time due to his active service in the Army.
Ray's military journey began many years before moving to Yutan. He grew up working 25 hours a week during the school year and completing daily chores on his family's farm near Tekamah. When the time came to think about what he wanted to do in the future, Ray felt drawn to do something for his country—enlisting in the Army as a soldier.
"I thought of it as exciting and an adventure that I didn't have to do forever, but short-term," Ray said. "Little did I know that it was going to be my life for the next 28 years."
Ray started his journey before he was done with high school by completing boot camp the summer after his junior year. After graduation, he completed his Army Initial Training.  He decided to join the Transportation Corps, where he received his license to be a transporter for all his company's wheeled vehicles. Ray continued his career as an enlisted soldier until 2010, when he re-enlisted as a Commissioned Officer in the Quartermaster Corps, where he still is to this day.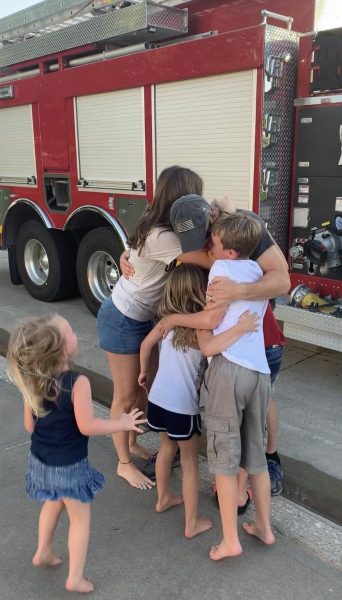 One of the things Ray has enjoyed about his time in the Army is the experience of meeting new people from different types of cultures compared to the one he grew up in. This has allowed him to learn from their experiences, which he has used to make his military service and family life stronger.
"It has helped me be a better father and spouse. It has kept me from making big mistakes. It has made my marriage stronger. It has helped my military career and strengthened my bond with my wife and kids," Ray said.
Ray was able to focus solely on his military work to start, but then 11 years in he married Adrianne, and together they had four kids—Emmy, Alex, Alaina and Lauren—which added to his priorities and made it more difficult for him to be gone on military deployments. However, Ray and his family have found ways to make up for the time lost, which may include taking a vacation, having one-on-one conversations and re-establishing the feelings of love and compassion for each other. 
"This is obviously the best part. It's almost like you get to have a fresh start and learn something and share an experience with your kids and wife all over again," Ray said.
To make Ray's homecoming from his last deployment even more special, he rode home on a firetruck with an American flag proudly hanging behind.
"It was special when he came home riding on a fire truck after his last tour and so many people were there to watch," eighth-grader Emmy Ray said. "It was so awesome to finally see him again."
When the time comes for him to leave for another deployment, it takes a lot of preparation, which includes completing any projects in and outside the house.
"The more I can do for my wife to have her not worry about when I am gone, the happier and less worried I will be when I am gone," Ray said. "I don't want her to have any additional stress."
Another thing that helps him stress less when he's away is the trust he has in his wife.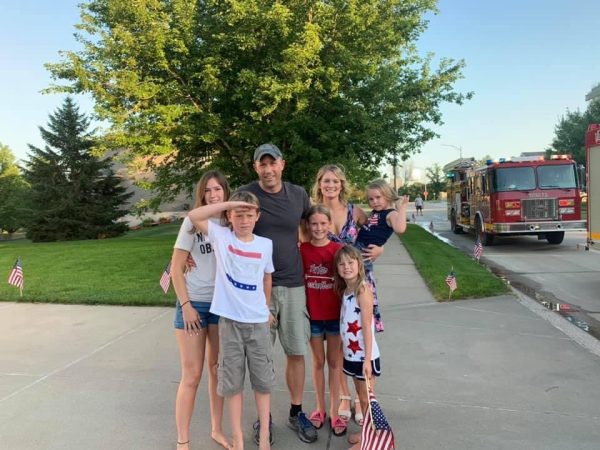 "My wife, Adrianne, is nothing short of a miracle mom. She is the biggest reason our family survives my military career," Ray said. "She runs a tight ship, and I back her in this, confide in her, trust her and love her deeply for all that she does and continues to do."
During the time Ray is away, Emmy, who is the oldest child, said that she does what she can to help her mom around the house. 
"So like if we're getting ready in the morning, I usually do probably double the amount that I do already," Emmy said. "Then if I'm not busy with sports, I'm basically like a second parent."
Once his deployment comes to an end, many feelings flood Emmy and her family as they finally reunite. 
"It makes me really really happy because I haven't seen him for a really long time," Emmy said. "I'm like crying and bawling with tears of joy that he's back." 
Ray also cherishes the moment of coming back to his family every time his deployments are over.
"My favorite thing about coming home is to feel that love, for real. It's so thick you can almost grab it," Ray said. "It comes from the saying absence makes the heart grow fonder."