People do many different things to celebrate veterans and their sacrifices for Veterans Day. First grade teacher Sherry Loos has unique activities for her students to make a special connection to Veterans Day. 
Loos has partnered with local veteran Hank Sauer for the past eight years to help teach first grade students about the meaning of the American flag and the sacrifices that our veterans have made.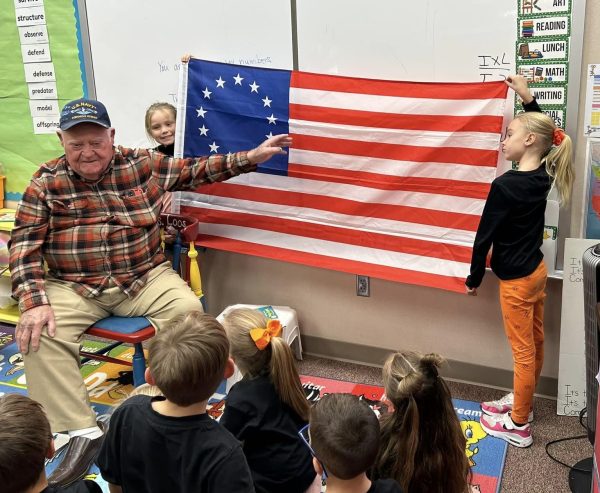 "He comes in, and he teaches the kids about the flag," Loos said. "I have a book on Betsy Ross. He reads the book and talks about the history of the flag and that the white means purity and the red stands for the blood of the fallen soldiers and the blue is for just America and our freedom."
Not only do the students get to learn about the history of the flag, they also get a hands-on experience.
"He teaches the kids how to fold the flag and how to respect it, and they absolutely love it," Loos said. "Then he gives a flag to every first grade [class]."
While this is a valuable learning experience in the moment, the students will also get to pass this on to others later.
"When they're seniors, they'll actually bring that flag down and give it to a first grade class," Loos said. "[Hank] wanted to do that for 12 years because he wanted every class to be able to come down and get one to pass it down to the first grade class."
Beyond the knowledge, a connection between the students and actual veterans is what Loos strives for the most.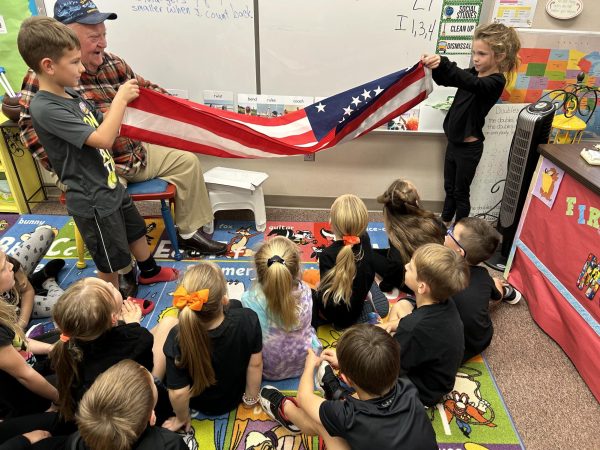 "They see a veteran that is so proud of his country," Loos said. "It's the way they look at him…they enjoy him, and they have fun with him. But it is such a personal connection, instead of just saying, 'Oh, it's Veterans Day.' They actually get to help him fold the flag."
This project is personal for Loos as well because her dad was a World War II veteran, which helped her realize what they want most from the next generation.
"They're so humble about what they've done and what they've been through," Loos said. "Maybe it's that humble sense of 'I did what I needed to do, so that you can have freedom, and I'm okay with that.' But, they want us to remember—there's a lot of sacrifice those people made."
This is Loos' ultimate goal: for her students to remember the veterans and their sacrifices.
"We forget the sacrifice, and that's…really important to me, that somehow these kids, even though they're little and that, but I think they still get it. They still get like 'yeah, that's really a big deal,'" Loos said. "It needs to start here and just keep going."