When thinking about their future plans, a lot of high school students think that going into the military and going to college is an either-or situation. However, Yutan graduate Allan Cramblitt (class of 2017) took advantage of opportunities available with both enrolling at Harvard University and attending Air Force ROTC, which gave him the opportunity to start his career not only with a degree but also as a military officer.
"I believe that everyone owes a debt of service to their community and country," said Cramblitt. "For me, everything lined up to be able to serve my country as an officer in the United States Air Force."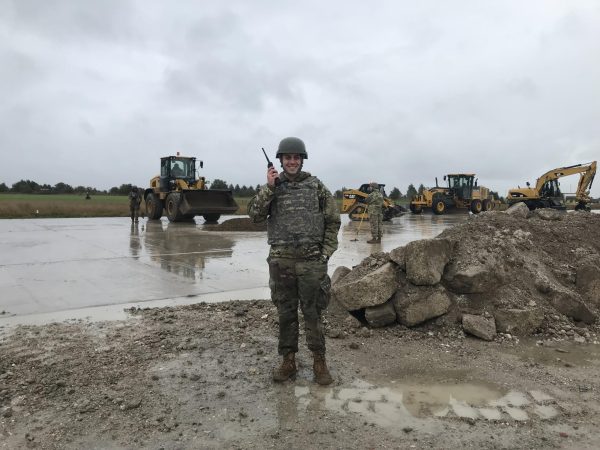 To Cramblitt, being in the military had always been a possibility for him, as many of his family members were also in Reserve Officers' Training Corps, or ROTC. In fact, Cramblitt was put into contact with a local alumnus about getting into ROTC when he was only a freshman in high school.
"A fair number of my family had served in the military," said Cramblitt. "When I was applying for universities, I applied for ROTC at the same time."
While attending Harvard University, Cramblitt was part of the Air Force Training Detachment 365, which was included in a collection of universities in the Boston Area.  After he graduated with a degree in mechanical engineering, Cramblitt started his full time career in the Air Force as a First Lieutenant. Through ROTC, Cramblitt put in a preference for his job, where he was then assigned a career field based on the needs of the Air Force and stationed in RAF Lakenheath, U.K. 
"Once you have your job, there are only a few amount of bases that have your job. My Dream Sheet had RAF Lakenheath, U.K., as my first choice, so I was very fortunate to be stationed here," said Cramblitt. 
While initial overseas assignments last three years, Cramblitt just got extended to stay at his base for four years. His day-to-day life starts off with a morning workout, then consists of mainly leading a group of engineers, project managers and enlisted personnel to complete construction projects. Along with managing other people, he also coordinates with the U.K. Ministry of Defense to do work in the U.K.
"I work in the Civil Engineer Squadron within the 48th Fighter Wing that operates F-15s and F-35s. My time is split about 75 percent administrative and engineering concerns and 25 percent military readiness and training. If something bad happens and I'm deployed, I need to be ready to operate in a deployed unit, which is very different," said Cramblitt. 
To Cramblitt, there are many positive aspects that come along with working in the military. This includes the locations where he gets to work.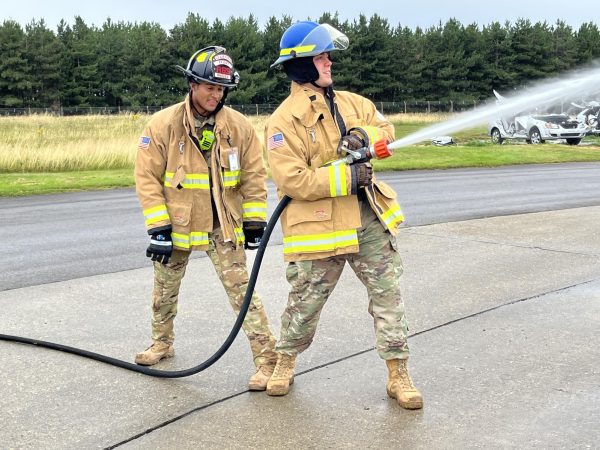 "The travel is amazing. Many people join the military with the aspiration to be able to travel around the world, and I am able to actualize that dream every weekend across Europe and Asia. Also, interacting with a different culture is an absolute blast. Most of my coworkers are U.K. citizens with wild accents and life experiences," said Cramblitt.
Even though he's far from home, Cramblitt has noticed similarities along with some key differences. 
"It really shocked me when I learned that so many of the locals lived such similar lives and had similar beliefs as those of my friends and family in Yutan and the Midwest," said Cramblitt. "For as many similarities as there are, it highlights the differences between our countries. It's been really cool to see how much sustainability, renewable energy, public transit, biking and trains are accepted in the U.K."
While working in the military brings many positives, being stationed across the world does have some negatives, though.
"It can be difficult to get back home, especially for emergencies. It's expensive, time consuming and such a hassle. Plus, you always wonder if you're missing out on significant life events," said Cramblitt.
Although Cramblitt may miss home at certain times, he is thankful for the many different chances to learn new skills and experience life through the military. 
"My career so far has been mostly to learn and grow," said Cramblitt. "The Air Force offers so many opportunities, and every day I get to work with some outstanding Airmen."