Anybody who has driven from Yutan to Ashland might have seen a large area that is fenced off with big blue panels surrounded by road construction with restricted lanes. These are the solar farms that are currently under construction and that have been affecting the community of Yutan.
"They were supposed to start building them actually a couple summers ago, but this summer they just started," said freshman Halle Arlt, who lives by the solar farms.
So far, workers have put in 90 percent of the panels for the project, which was expected to take 12 months to build. During this construction, there have been road changes with negative effects on the students who use these roads to get to school. 
"They made a stop light on the intersection, and they are doing a lot of work there, which causes a lot of traffic," said freshman Hudson Bedlan.
This has caused students to be late to activities.
"Sometimes they will have the road that I drive to go to school blocked off, so I will have to take the long way, which has made me late to school and practice," said Arlt.
Not only does this affect students when they are on the road, it causes a disruption at their homes.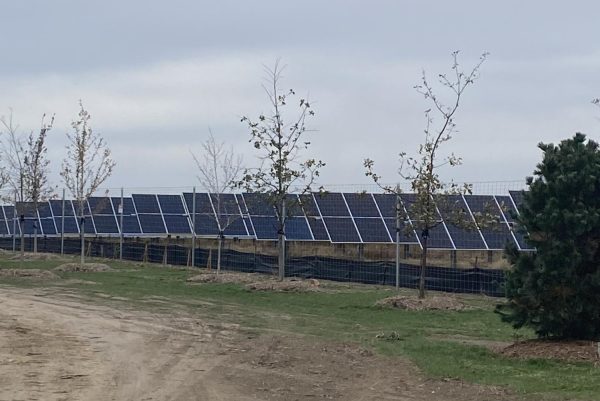 "Sometimes when they're building it can be really loud. Their construction is just super annoying," said Arlt.
The solar farms also take up space that had been previously used as farm ground.
"They don't look good. They ruin the view," said Bedlan.
Although people may not like them, there are good things that could come from the solar farms. 
The utility company installing is OPPD. According to their website, OPPD is working on ways to meet increasing energy demands and produce affordable, reliable energy.  
"The electricity produced by the farm will be enough to power 14,000 houses," Page Bolin, the development manager, told the Wahoo Newspaper, even the students who have dealt with the disruption can recognize this potential benefit.
"It's good for the environment, not having other things that are producing electricity like gas power that can cause pollution," said Arlt.
The solar farm also has the potential to benefit the school district financially.  According to the Wahoo Newspaper, "Yutan Public Schools stands to gain more than $200,000 in tax dollars from the solar farm."
While the benefits are yet to come, the people who live in the area are doing the best they can to put up with the disruption.
"I just try to ignore them, but sometimes it can be hard. They also put up some trees around the fence, so that makes it look better and easier to ignore," said Arlt.