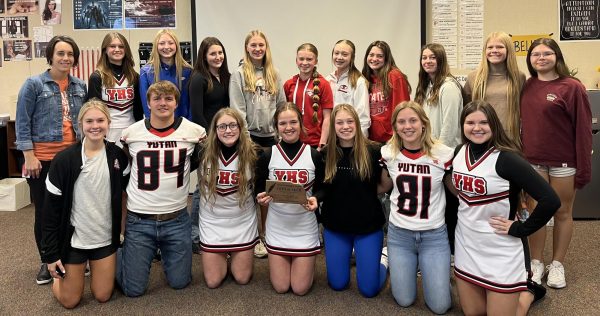 Every school has something they are good at, a niche per se. One such "niche" for Yutan High School is the journalism program. This program has seen substantial success in the past, with multiple state championships. The journalism team has set such a high bar for themselves that their dedication to excellence has paid off once again as they were awarded the Cornhusker Award in October.
The Cornhusker Award, which is given by the Nebraska High School Press Association, is awarded to schools that produce outstanding yearbooks newspapers and online media. Yutan received this honor for last year's yearbook. 
"The Cornhusker means that we met all the criteria that put us at the highest standard of yearbooks. This was along with a lot of other Class A and B schools, but we are one of—if not the only—small school yearbook that received a Cornhusker," said journalism advisor Ginger Eikmeier.
Having a consistently great yearbook and program takes a lot of time and is very much a team effort, Eikmeier said. Those who are not involved in the process of making the yearbook might not have a full grasp of the full amount of work it takes to produce a yearbook of the standards the program has set. 
"The process of making the yearbook takes a lot of time and a lot of communication. There's a lot of planning that goes into a yearbook and a lot of things that students probably don't recognize," said senior and four-year journalism participant Maycee Hays.
The process of making the yearbook might not be an easy one, but teamwork helped to bring the ideas to life.
"Everyone pitched in when we were getting stuff done, which made the yearbook easier and more fun," said second-year journalism student Anna Rupp.
Last year's award-winning yearbook featured the theme  "That's Gonna Leave a Mark", with theme colors of black and gold and some accents of red, along with many other details that made the yearbook stand out compared to others.
"Some other students probably don't recognize it, but our layouts are all original. There are three different layouts that all also have to connect to look good," said Hays.
There were still other differences that set last year's yearbook apart. These aspects, while they required more work from the team, were well worth it.
"
It's learning and seeing our efforts pay off.  And then, hopefully, we'll make that happen again this year.
— Anna Rupp
"One thing I challenged the staff with was the captions that we included throughout the book. Instead of just including two-sentence captions with every picture, we did three-sentence captions," Said Journalism Advisor Ginger Eikmeier "which meant we had to collect a quote for every single picture we included in the book. So it seems like a very little detail. But in the end, it really was a lot more work for our staff,"
Although the journalism program has seen success in the past, it aims to continue raising the bar and improving the yearbook.
"Any time we receive an award, we're never settling. We're just ready for how we can get even better and achieve this award in the future or go even further than that," said Eikmeier. 
Not only will they work to keep improving the yearbook, but winning the Cornhusker has left the students motivated for the next project and the next after that.
"It gives me a sense of hope that I could be recognized for the hard work I do," said Rupp.