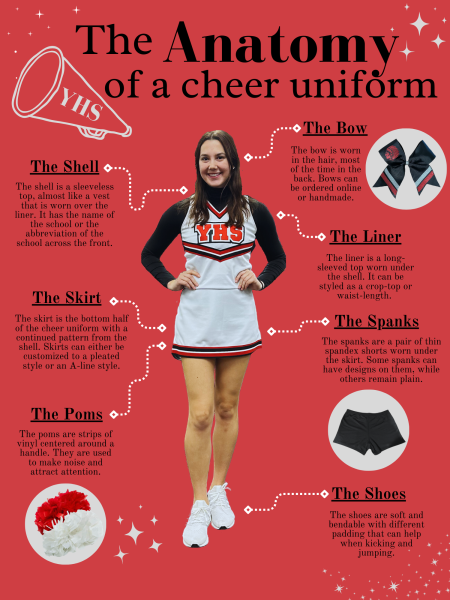 Team uniforms are often taken for granted because they are automatically supplied by the school, but for cheerleaders, finding and receiving the perfect uniform is a whole different process filled with ups and downs, which the cheer team experienced firsthand this year.
This process for the uniforms actually started in about late January, early February of the previous school year. 
"So for finding the uniforms, the upperclassmen and captains and I would look through different magazines to find uniforms that we liked. So I had it down to a couple of different uniforms that I liked, and they helped me pick which one they thought was the best," cheer coach Megan Callahan said.
The design of the uniforms is different compared to other years. Previously the uniforms were all black, though this year it's different with the front side having a white background and the back side having a black background with red and black trim throughout.
"We knew that we didn't want all black because that had been a uniform choice for the past couple of years. So we wanted to switch it up a little bit. So we just looked through catalogs and saw what we liked," Callahan said.
While picking the uniforms was relatively easy, then there were challenges such as getting all the cheerleaders to try on the uniform sizes and receiving the money from them for the uniforms.
"I would say that finding the uniforms was the easiest process, but to order them, we had to order in a fit kit and have girls try them on," Callahan said.
After the cheerleaders were fitted, they had to send back the try-on uniforms and order the ones for the season. Although they were ready to be ordered early, the cheerleaders had received their uniforms in the middle of football season due to money for the orders being turned in late. Since the uniforms are custom-made, the cheerleaders are responsible for paying for their own uniforms. 
"It would have been nice to have our uniforms before the homecoming game, but there's nothing we can really do about it now," senior Reagan Wilson said.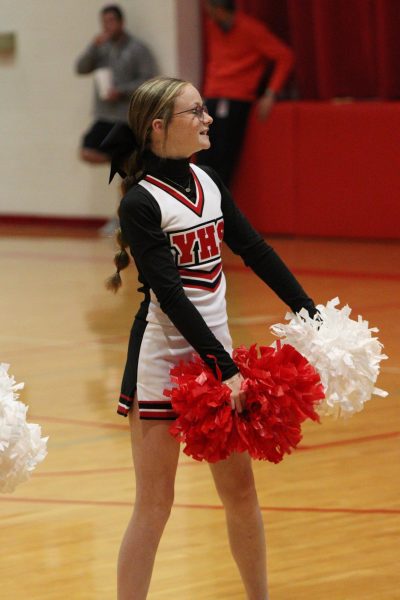 Even though this was later than they hoped, it was better than previous years when the uniforms were ordered too late and arrived later in the girls' season.
"It was a lot smoother than it has been in the past," Wilson said. "We ordered the [uniforms] a lot earlier than we had before, and we got them at a decent time."
With them now in, the uniforms have helped the cheerleaders personally and as a team.
"I think that they feel more like a team, they feel complete," Callahan said. "They're not a huge fan of having to wear the red golf skirts and a T-shirt all the time. So now they just feel like an actual cheer team."
Though they just came in, many cheerleaders already feel different while wearing uniforms when they cheer. 
"For me personally, I think that when I'm wearing the cheer uniform, I just feel more like a cheerleader," Wilson said. 
"The color scheme goes together. I was a little skeptical about them at first, but I think once we all put them on and come together as a team, I think they look really good," senior Andi Nelson said. 
Coming together as a team, the cheerleaders can now enjoy and show off their new uniforms during the rest of the season. 
"It felt really good to go out and show off our new uniforms. It really feels like we look like a great team," freshman Lexi Engel said.