Fall family fun
Gale shares her family's Halloween traditions
Carving pumpkins is a well-known Halloween tradition, and this is no exception for freshman Adie Gale, whose family goes all out with pumpkins and decorations every year.
"My mom has been doing this ever since she was a little kid," said Gale. "My dad definitely was a carver. He loved carving pumpkins when he was a kid—so having both of my parents just loving pumpkins and that stuff, I was just born into it. Now I've become a part of that tradition too, and I enjoy doing it." 
Gale's family starts their tradition by choosing the perfect pumpkins.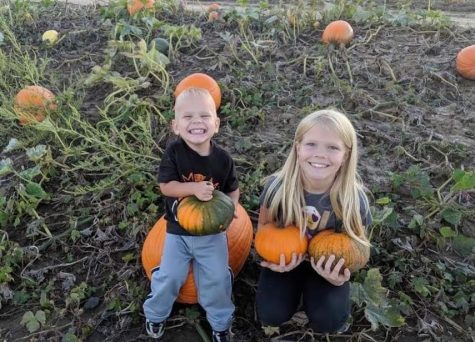 "We always go to a pumpkin patch to pick out all of our pumpkins. We always either pick out the ones that are in the trailers, or we'll go out in the field and pick out the pumpkins that are there, too," Gale said.
Once they have all of their pumpkins picked out, Gale's family usually decorates the outside of the house with the pumpkins, gourds and autumn signs. 
"The first thing that we usually do is we'll gather all of our pumpkins and figure out which ones are kind of alike and which colors would look better [next to each other]," said Gale. "My mom is really big about making sure that there's not a bunch of orange ones next to each other, there's gotta be some orange, some greens, some yellows and some whites." To Gale, decorating is a long process, but the end product is worth it. 
"It definitely makes me feel happy. But at the same time, it's also stressful. I know decorating after a while just took so long. I was like, 'oh my gosh, I just want to be done with this.' But once it's done, it looks really good. It definitely makes me feel really happy and proud of myself," said Gale. 
Once the decorating is done, her family gets to the main event: carving pumpkins. This gives Adie a chance to spend time with her brother, first-grader Colton Gale. This is fun for Adie and Colton, but it's definitely a messy process. 
"My brother and I, before Halloween, usually always carve pumpkins together. Or actually, I carve pumpkins, but my brother either paints or melts crayons on them—he makes a huge mess when he paints. The paint gets spilled everywhere," Gale said.
All the hard work and effort is aimed towards one night.
"My favorite part of the tradition is definitely just Halloween night when everything comes together and everyone just enjoys themselves," said Gale.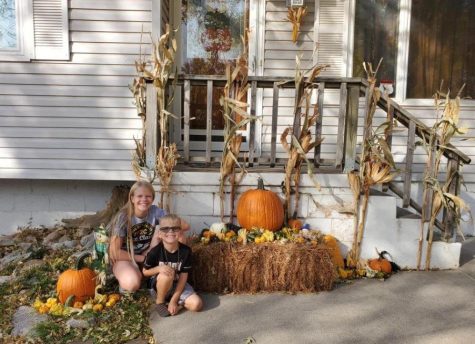 Halloween night no longer involves trick-or-treating for Gale. Instead, the final part of her family's tradition is to help decorate her dad's friend's haunted house. Inside the haunted house, there are people dressed up to scare the trick-or-treaters, and that is when Gale comes in. In order to get the candy, trick-or-treaters have to be brave enough to go through it. 
"My dad comes around and kind of helps out with decorating it, and my mom usually helps decorate it too. But then me and my dad always like to scare too. So I don't usually dress up for trick or treating, I just dress up for that particular reason," said Gale. "Last year, I was the Purge. Just because there was a mask I found that was the exact skin tone as me. Then I found this gown thing that was perfect. Then I just splattered it with blood and then I got a bat and a knife, and I put blood on that too."
Gale's family has a lot going on during the season, but in the end, all the hard work and creativity pays off on Halloween night. 
"Having so many pumpkins and decorating for such a long time really pays off on Halloween, and I just love seeing everybody's reaction when they walk by our house. They always are like, 'Oh my gosh, and how many pumpkins there are?' 'Oh my gosh, look at their decorations.' So that just makes me happy," said Gale.
The fun doesn't end on November 1, though; Gale's family leaves their pumpkins out the whole season so they can enjoy their hard work not just during Halloween but also during November. 
"We always leave them out until about a week or two after Thanksgiving," Gale said, "because my family believes that pumpkins and fall decorations aren't just for Halloween, they're also for Thanksgiving."
Leave a Comment
Donate to Chieftain Times
Your donation will support the student journalists of Yutan High School. Your contribution will help cover our annual website hosting costs, as well as allow us to purchase equipment and produce more in-print editions.
About the Contributor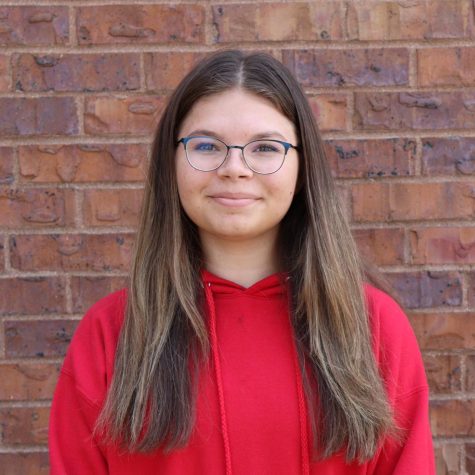 Maddie Bailiff, Freshman writer
Maddie Bailiff is a freshman and in her first year of journalism.  She enjoys writing, making bracelets and spending time with friends.  Outside journalism,...