Powerlifting improves Peterson's performance
To help athletes improve, coaches usually recommend lifting weights. Yutan junior Will Peterson has taken this advice to heart, elevating his powerlifting and overall athletic abilities to a new level.
"It's helped me in athletics by just being able to compete," Peterson said. "I was never a great athlete before I started lifting weights, and now I'm actually able to be competitive."
"
I was never a great athlete before I started lifting weights, and now I'm actually able to be competitive.
— Will Peterson
Powerlifting has helped Peterson become a starting lineman for the Yutan Chieftain football team in the 2020 and 2021 seasons. 
Yutan line coach Joe Dolezal has noticed a change in the way Peterson played. 
"His footwork is light years ahead of what it was last year and he has to be one of if not the strongest lineman in Class C-2 and he knows it," Dolezal said.  "When he does his technique correctly now, no one can stop him on the field."
Dolezal said this improvement helps the whole team.
"He adds an element on the defensive line that complements our quicker linemen. We can use him as a wrecking ball to throw off the opponent's offensive schemes," Dolezal said. "He was a game-changer against Wilber when we put him at nose guard.  Their center didn't know what to do with his size and strength."
Peterson said his weightlifting routine depends on the day.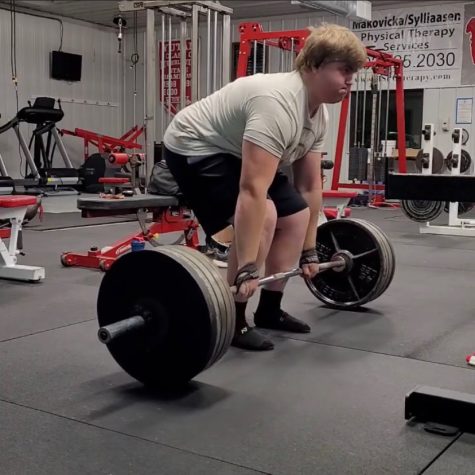 "You'll base it off compound movements, such as squat, bench or deadlift, and work up to a certain weight there," Peterson said, "then do accessories, different movements that isolate the muscle to help that big compound movement."
Competing in powerlifting also earned Peterson some records. 
Peterson said that he has school records in the squat with a 605 pound squat and a 380-pound bench press. "I also have four national records for my weight class in the International Powerlifting Federation," Peterson said.
Peterson had a successful year in competitive powerlifting, winning the state powerlifting meet in the 275 weight class. 
Peterson has aspirations for more success than just state, though. Some of his goals include winning Class A state powerlifting, winning the United States of America Powerlifting Nationals and breaking the world squat record at his weight class.
"I plan to power lift until my body can't take it anymore," Peterson said. "I do know that walking around at 260 pounds, all this weight, eating all that food, it's not gonna last forever."
Leave a Comment
Donate to Chieftain Times
Your donation will support the student journalists of Yutan High School. Your contribution will help cover our annual website hosting costs, as well as allow us to purchase equipment and produce more in-print editions.
About the Contributor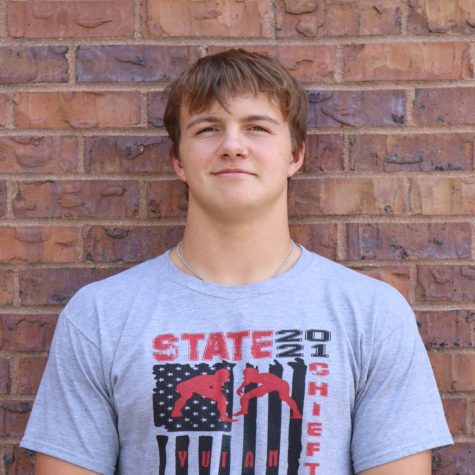 Derek Wacker, Senior writer
Derek is a junior and in his second year of journalism.  He enjoys taking photos and writing sports stories.  Outside journalism, Derek is involved in...