Young cowboys, big dreams
Seventh graders take in unusual hobby
Joe Harrison. Trevor Brazile. Two of the best professional ropers to ever walk this earth. These two ropers are who seventh-graders Holden Degroff and Tucker Barta strive to become someday.
Degroff has been roping for close to five years while Barta has only been roping for about two, but they both started with the same practice mechanic: "swing it, toil it, and throw it," which is a phrase many ropers use to describe the basics of roping. 
"I started just on a small dummy, not really too big into it," Degroff said. "But this past year I've really been getting bigger into roping live cattle."
Going from roping a fake plastic horned steer to competing at live events can be intimidating, but for these two boys, it's their favorite part.
"Getting to rope live cattle at branding is a great experience, and the competition part is something I love," Degroff said.
One main reason Barta loves roping is because of the outcome after he gets out of the "roping box," where a roper and horse stand before going to rope the steer in a competition.
"I would say one of the top things for me is when I catch," Barta said, describing the moment when he catches the steer around the horns, head or neck with his rope.
At competition, the days are long, but the boys make the most of it while they are there. Roping can be a very hard skill to learn and perfect, but Barta knows all of the ins and outs of it. 
"You make sure your partner is ready, then you nod your head, let the steer run, and you rope it," Barta said.
In team roping, according to Barta, when you're a "header," you go first and catch the front half of the steer, and then your partner, the "heeler," comes in behind and ropes the back half of the steer.
 Degroff and Barta were taught how to do all of this by some very important people in their lives.
"My number one supporter has been my mom," Barta said. "She was the person who taught me how to rope, and she has given me many different tips throughout it all."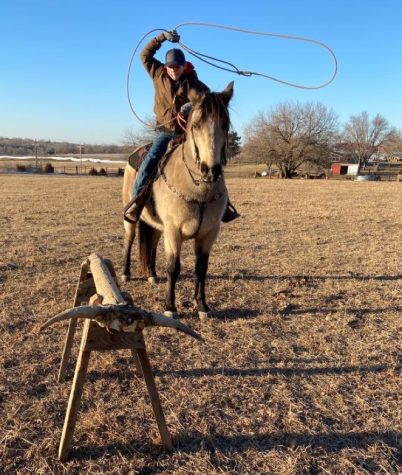 For Degroff, it wasn't his family that taught him the basics of roping but a neighbor. 
"Mushy Stohlman. He taught me how to rope, got me good at doing it, and has taken me places to practice," Degroff said.
Both young cowboys strive to make this competitive talent a lifestyle someday, just like Harrison and Brazile.
"Trevor Brazile has 26 PRCA (Professional Rodeo Cowboys Association) world championship titles, so I would like to go that big someday," Barta said. "He is really fun to watch, and he does team roping, which is another reason I look up to him."
 Degroff would like to take these roping skills into his future by working cattle on his family farm.
"I've helped my dad work on the farm my whole life and have learned many things as a young boy, one including roping," Degroff said. "I think that's one of the main reasons I want to help him when I get older."
Leave a Comment
Donate to Chieftain Times
Your donation will support the student journalists of Yutan High School. Your contribution will help cover our annual website hosting costs, as well as allow us to purchase equipment and produce more in-print editions.
About the Contributor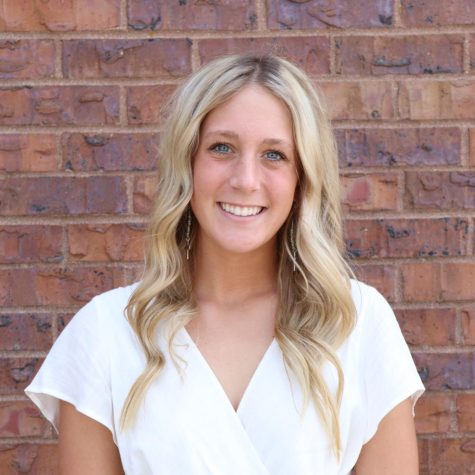 Laycee Josoff, Senior writer
Laycee Josoff is a senior and in her fourth year of journalism.  She enjoys photography, sports feature writing, broadcasting and yearbook.  Outside...