Students get creative with class floats
Making class floats is a homecoming tradition at Yutan High School. This year's students had to be even more creative because there was no specific theme to follow.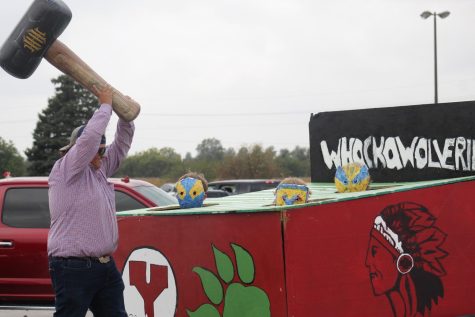 The classes whose creativity paid off and earned them a winning float were the seventh-graders' "Roast the Wolverines" float and the sophomores' "Wack-a-Wolverine." 
This outcome was no surprise to sophomore Haley Kube, who explained before the winning floats were announced that she was confident they would hold onto their winning streak. 
"We have some experience in winning…I would basically say we have this in the bag," Kube said.
Kube said her class got the inspiration for their float from the arcade game Whack-a-Mole, which they changed into Wack-a-Wolverine to connect to the football team's homecoming opponent. 
"[It's] where you have a hammer, and there's just mole heads popping up you try to hit. So we're trying to basically hit the Wolverines," Kube said. 
She said in total their float took around ten hours or more for her fellow classmates and student council members to create, wanting everything to resemble the game.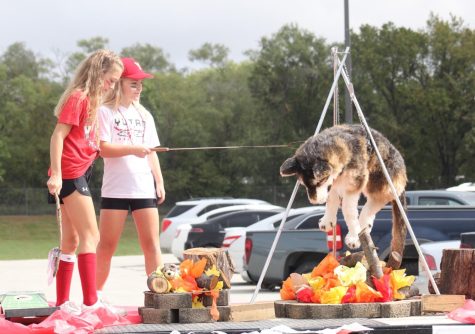 On the contrary, seventh-grader Kylie Woster was surprised to hear that their float was enough to win the seventh through ninth-grade bracket. 
"They were pretty good. I didn't know if we were actually gonna win after seeing all of [the floats]," Woster said. 
Woster said that it took a couple of hours or more to make the campsite-themed float.
"So there's a tent on it and we built…two fires. [Above] the bigger one, we have this tripod griddle, and we hung the wolf by its waist chained above the fire," Woster said. 
After the surprise win, Woster said her "pretty competitive" class will strive to make more winning floats in the future.
Another float that got creative with their theme was the freshmen, whose float was called "Wrangle the Wolverines." Freshman Drew Krajicek explained how his class found the inspiration for their theme. 
"We decided to go on the internet and look up for verbs that start with W because we're playing the Wolverines and wrangle came up, and that's one we went with," Krajicek said.
Krajicek said that it was a Wild West-themed float, and it consisted of different buildings someone would see in the Wild West.
"It had a bank, saloon, train station and a motel. Those are made out of cardboard and had a fence that we put up," Krajicek said, adding that it took a total of four hours to complete.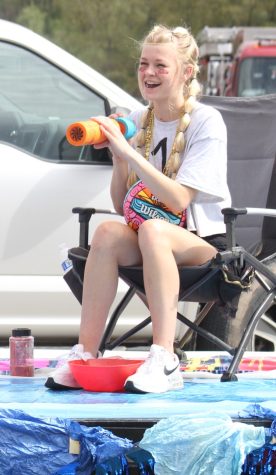 The seniors also got their inspiration from a W-word, but this one came from a TV show.
"I used to watch the show "Wipeout" with my dad, and so I was just like 'wipe out the Wolverines.' It seemed like it fit," senior Kaitlyn Bisaillon said. 
The seniors' "Wipe Out the Wolverines" float had a shallow pool with balls that resembled the obstacles on the show. Bisaillon explained that she and her fellow seniors worked on their float on Friday morning and a couple of hours in and out of class.
 Despite the fact that the seniors didn't win this year, Bisaillon said, "I think this is probably the most we've ever tried on the float in our high school career."
Though Bisaillon enjoyed working on her own float, she thought the other floats in general had a lot of effort put in.
"[The other] classes tried really hard," Bisaillon said. "They were definitely all very well put together."
Leave a Comment
Donate to Chieftain Times
Your donation will support the student journalists of Yutan High School. Your contribution will help cover our annual website hosting costs, as well as allow us to purchase equipment and produce more in-print editions.
About the Contributor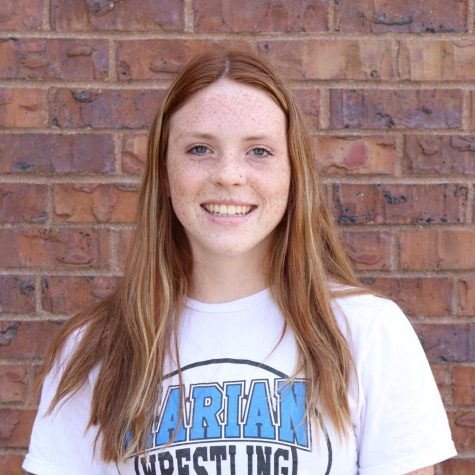 Alexis Pehrson, Sophomore writer
Alexis Pehrson is a sophomore in her second year of journalism.  She enjoys writing stories.  Outside journalism, Alexis is involved in wrestling.