Last-minute changes pay off
Cheerleaders experience success with this year's homecoming dance
During the homecoming game, Yutan's crowd can always look forward to a  halftime dance from the cheer team. While the audience gets to see the finished product of the dance, there is much more to the performance than meets the eye.
When the homecoming game was moved a week earlier this year, the cheer team was forced to change their plans. Having very little time to learn the entire original dance, coach Shawna Gunter decided to change the dance altogether.
"We all decided it would be best to go a slightly different route. I had the dance choreographed already and sitting in my back pocket in case of an emergency," Gunter said.
Gunter spent significant time on the choreography. Most parts of the dance were regular cheer moves, but some others were dance moves she thought would go well with the rest of the moves.
"It was a lot of reviewing and editing until I was happy with it. I think of it like writing an important paper; you start with an outline, write a rough draft, edit it and then present the final draft," Gunter said.
Sophomore squad leader Maura Tichota liked this year's halftime dance better than the previous year's dance even though it had to be improvised.
"Even though we learned it in a short amount of time, I think it's really good," Tichota said.
Through all of the pressure of the crowd, there's a chance the cheerleaders would be nervous. Tichota, however, didn't feel very stressed.
"I've done [many kinds of performances], and this is just another dance to add to tomorrow's checklist," Tichota said.
However, the first-time cheerleaders were bound to be more anxious.
"It was very nerve-wracking, I think, but when we started doing it, it was just really fun," sophomore Reagan Wilson said.
Like Tichota, Wilson enjoyed this year's performance more. Not only did the cheerleaders have fun with the dance, but the crowd seemed to enjoy it.
"I think people really enjoyed it. When I watched the [dance] last year, it seemed like people weren't really into it, and I think that people were really into it this year and it was fun for people to watch," Wilson said.
Even though the crowd can be critical, the cheerleaders do their best to overlook these comments.
"You're always going to have those couple people on there that are going to be like, that was so boring, but… you got to take the positive comments, not the negative," Tichota said.
One of the favorite parts of the dance for the cheerleaders was the beginning with the ripple effect.
"I love how simple moves, done clean and precise in a group, can have such a major visual impact," Gunter said.
Overall Gunter was thrilled with the amount of work and effort put into the performance.
"[The cheerleaders] really took my choreography and vision and just ran with it," Gunter said. "The team's passion really shaped how the dance turned out."
Leave a Comment
Donate to Chieftain Times
Your donation will support the student journalists of Yutan High School. Your contribution will help cover our annual website hosting costs, as well as allow us to purchase equipment and produce more in-print editions.
About the Contributors
Gabi Tederman, Sophomore writer
Gabi Tederman is a sophomore and in her second year of journalism.  She enjoys taking pictures and writing.  Outside journalism, Gabi is involved in...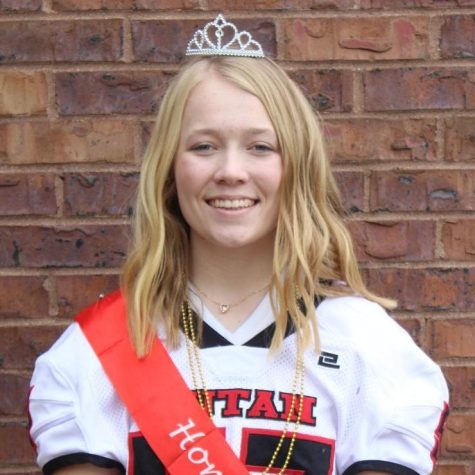 Heidi Krajicek
Heidi Krajicek is a senior and in her fourth year of journalism.  She enjoys writing sports stories and taking pictures.  Outside journalism, Heidi is...