Yutan graduates share college sports experiences
Little over 7 percent of high school athletes end up playing in college. However, Yutan has managed to defy these odds and has many college athletes able to call our small school their alma mater. 
One recent Yutan graduate participating in college basketball is Brady Timm, who dreamed about playing college basketball since he was a little boy.
"It was always just a thought in my mind. Even as a five-year-old, I just always thought I'd play college basketball," Timm said.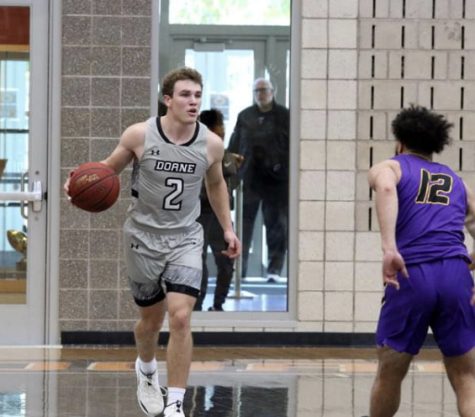 Though his heart was set on basketball, Timm also found a love for football in high school and hoped to play both in college.
"It was difficult getting recruited for both football and basketball, and at the end of the day, it came down to playing time and scholarship money," Timm said.
Timm decided to focus on basketball in college and said one major factor that helped him get recruited was playing select basketball. 
"It helped with exposure for college and creating lifelong memories," he said.
With the help of playing select, Timm got the chance he had dreamed of and is now a freshman Tiger at Doane. But getting on the court was even more difficult than getting recruited.
"It's (college basketball) a lot more tolling on your body, so creating good study habits and work habits and health habits are a necessity," Timm said. "College basketball is like a full-time job, and fighting for minutes and a spot is a lot harder."
The intensity level of college sports sometimes is too much, and sadly another Yutan graduate discovered that before her sophomore season even started. Emma Lloyd started preparing for her second track season at the University of Nebraska-Lincoln but ended up having to give up the sport she loved due to a serious injury.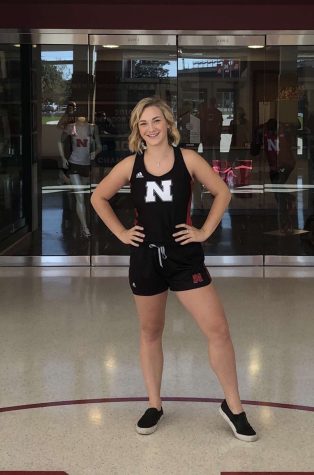 "I got to college and put my body through heavy lifting and training; my back started to deteriorate and get a lot worse," Lloyd said.
Lloyd had struggled with a back injury in high school, but it got even worse once in college. The doctor told Lloyd that she was starting to develop arthritis and would have to stop training; otherwise, she would have to deal with the life-long consequences.
"The doctors said I will have a long-term injury in my back and even a chance at paralysis," Lloyd said. "I'm on medical disability now."
Despite not having the opportunity to participate in college athletics anymore, Lloyd still believes she had some great experiences as a freshman. Lloyd loved being a Husker and encourages others to follow their dreams as she did.
"Keep grinding and working hard every single day. Reach out to wherever you want to compete, no matter how big, because coaches like to see that commitment," Lloyd said.
The "next level" doesn't always turn out how people hope it would, and most of the time it comes from "making decisions too early." Former Yutan graduate Maddie Davis had some issues with this in her college experience.
Davis participated in track, volleyball and basketball in high school but couldn't make a decision on which sport to pick or what college to attend. She said the only college at the time that showed interest in her playing volleyball was Central Community College (CCC) in Columbus.
"I remember I filled out an application online and the coach got in contact with me to ask about my film," Davis said. "They came to a couple of my games, and that is when I was offered a scholarship."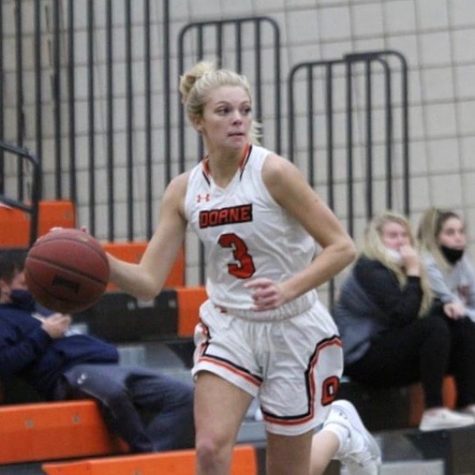 Davis said that the main reason she got offered a scholarship was because of the way she "carried" herself rather than her actual skill level.
"They told me that they were impressed with my competitiveness, hard work, attitude and leadership… If you don't have a hard work ethic, a great attitude and leadership skills, they will look somewhere else," Davis said.
During her sophomore volleyball season at CCC, Davis explained that the women's basketball coach recruited her to play basketball alongside volleyball. But after three years, Davis ended up graduating from CCC and attending the University of Nebraska-Omaha.
"I went to the University of Nebraska of Omaha, where I did not play sports for a year," Davis said. "It was my first semester at UNO that I decided I wanted to play basketball again and began getting in contact with college coaches."
Once again Davis was recruited but this time just for basketball. She is now in her second year at Doane University and said she has enjoyed every minute of her college journey so far.
"College sports are so fun, and you make so many great new friendships and memories that you couldn't create without it," Davis said.
Leave a Comment
Donate to Chieftain Times
Your donation will support the student journalists of Yutan High School. Your contribution will help cover our annual website hosting costs, as well as allow us to purchase equipment and produce more in-print editions.
About the Contributor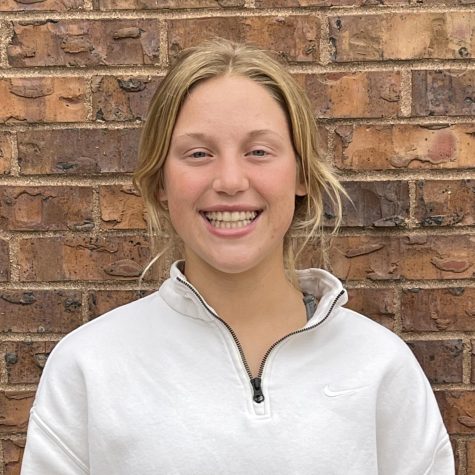 Haley Kube, Junior writer
Haley Kube is a junior and in her third year of journalism. She enjoys writing sports news, feature stories and making infographics.  Outside journalism,...