Seniors reflect on how pandemic affected their high school experience
 On Mar. 15, 2020, when the current seniors were freshmen, Yutan Public Schools announced a temporary closing due to COVID-19. Later, the school district announced that students and faculty could not return to school and would complete their 2019-2020 school year remotely for health and safety reasons. Now the seniors are reflecting on how their high school experience has been different as a result of the pandemic. 
Some students found the transition to remote learning easy.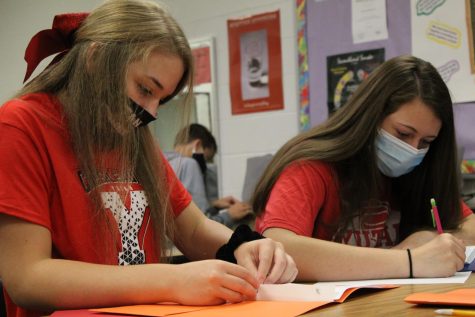 "[Online schooling] was definitely much easier because obviously none of the teachers knew how to adjust to it," said senior Abby Keiser. "The teachers were very easy on us; it was much easier than in-person school."
For other students, it was more challenging adapting to the new style of learning. 
"I was not happy about it at all, just because I don't like learning things online, and I get really nervous about doing new things," said senior Kylie King. "New things online and getting on the Zoom calls on time and everything made me kind of nervous."
The students were forced to adjust quickly, but one thing that made it easier was that the end of the year was close. 
"I didn't really think I wouldn't be able to finish my whole freshman year. I thought it was just the two-week thing," said Keiser. "Then as the time kept going on, I just got more excited about summer. So I never saw it in a bad way; I thought it was nice to have a longer summer."
With summer being right around the corner, getting used to the new rules of staying home and having restrictions on being around others was difficult. 
"Not being able to see friends all the time [and] not hang out in places like we used to was hard," said senior Alania McIntyre. 
Because indoor activities were typically restricted, outdoor activities became more popular as quarantine went on. 
"That's when me, Alexis, Taylor and Shaylynn went on walks a lot, and we got really close through walking," said King. "That's how we stayed in touch and all that."
Instead of staying at their own house and neighborhood during quarantine, others decided to stay at a relative's house.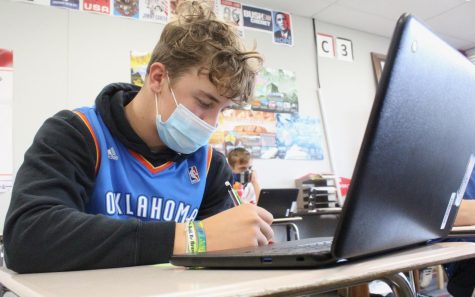 "I was not home for a four-month period where I was at my cousin's house," said senior Josh Fisher. "He used to live in this apartment complex, where they had a gym and stuff. We would work out, play basketball [and] baseball."
Sporting events were often postponed or even canceled during this time. 
"We didn't get many games that summer. It was very hit or miss," said Fisher, who plays baseball. "Then we had to wear masks in the dugouts. 100 degrees and a mask, it's not very fun."
COVID did not just have an impact in early 2020 but continued to impact the years to follow.
"It just was so weird because I feel like we kind of took a while to get everybody back to normal and back in school and everything," said King. "It kind of messed up my whole freshman and a lot of my sophomore year."
To get back to in-person school as fast as they could, schools required everyone in the building to wear masks all day, which was hard for some students. 
"I never wore my mask right unless I got yelled at, and then I'd take it back down," said McIntyre.   
Sporting events were also restricted during that year. 
 "We couldn't go to state wrestling and then my brother couldn't go either because my mom got COVID, so we were all affected," said Kesier. "We all had to stay home and then just couldn't go to state wrestling."
Because the experience brought its challenges, they are all more thankful to have a normal senior year. 
"I am grateful for a regular last year to finish out my high school career knowing what freshman and sophomore year were like because of COVID," said McIntyre.
Leave a Comment
Donate to Chieftain Times
Your donation will support the student journalists of Yutan High School. Your contribution will help cover our annual website hosting costs, as well as allow us to purchase equipment and produce more in-print editions.
About the Contributors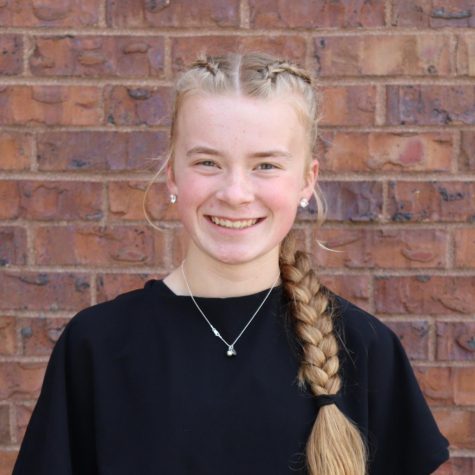 Delaney Shield, Freshman writer
Delaney Shield is a freshman and in her first year of journalism.  She enjoys taking pictures at sporting events.  Outside journalism, Delaney is involved...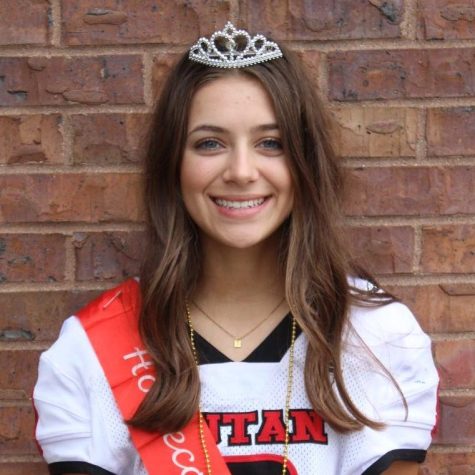 Kendyl Egr
Kendyl Egr is a senior and in her third year of journalism.  She enjoys taking pictures and creating digital journalism projects.  Outside journalism,...