Struggling with the stress of isolation
COVID causes teachers, students to quarantine at home
A life of isolation is a common situation happening for many teachers and students across the nation, and at Yutan High school, the story of quarantine is no different.
English teacher Alyssa Hansen recently had to quarantine due to testing positive for Covid and said the whole thing was "overwhelming."
"In the beginning, I felt awful. I was achy, tired, coughing, and had no appetite. My husband and kids also started feeling unwell a few days after me, so then we were all in pretty rough shape," Hansen said.
Hansen talked about how her family eventually started feeling her symptoms as well. This led the family to feel even more stressed.
"It's a very helpless feeling…not knowing what to do and where to take them in an emergency is stressful, but there's also the guilt of knowing if we had to go somewhere, we'd be exposing people to the virus," Hansen said.
"
It was a really scary experience… I'm still a little nervous about lasting effects, and the kids taking turns, but I'm grateful that we've all been okay so far."
— Alyssa Hansen
With having to feel this sort of guilt, the family stayed at home and got to spend more quality time with each other.
"I did get to spend a lot of time with my family. Because we were all symptomatic at around the same time, we didn't have to isolate from each other as much. We got to watch movies and play board games when we were at home and feeling better, which was fun," Hansen said.
However, even with the niceness of being able to see and socialize with her family, Hansen missed her daily routine back at Yutan.
"Teaching from a computer was not my favorite. We became teachers because we like being around kids, so teaching from a screen was not the same. But it was nice to get into a routine each day and to see kids, even if it was virtually," she said.
Hansen explains that it wasn't the easiest to teach from a screen especially since she couldn't have any one-on-one time, but it was even worse not knowing what could come next.
"It was a really scary experience… I'm still a little nervous about lasting effects, and the kids taking turns, but I'm grateful that we've all been okay so far," Hansen said.
Whether it be kids of her own or her students. Hasen wishes the experience upon no one, but unfortunately, things didn't turn out the way she hoped.
Cole Beutler is one of many students who had the unfortunate luck of being quarantined.
"My older brother Caleb tested positive for Covid, and I'm fairly certain I had it as well," he said.
Beutler explains that he lost his smell and felt awful for the first week of quarantine, which only made it hard to get the hang of his schoolwork at first.
"First day of quarantine, I didn't go to my Zooms… I also fell asleep a lot on Zooms but only for a minute or two," Beutler said.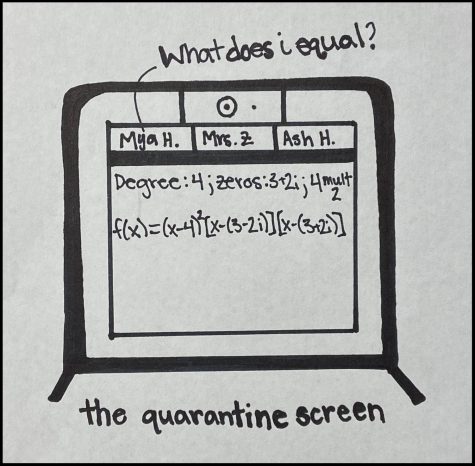 Not being able to focus on Zooms made it harder on him, he says. Because of this, Beutler just tried to get his work done as quickly as possible without the explanation of his teachers.
"It was a lot harder for me personally to learn online, especially in classes like Physical Science and math. I missed a few science labs and a few math quizzes and tests," he said.
As a result of rushing through his schoolwork, Beutler spent more of his time trying to get better by sleeping and playing video games with "the boys."
"I missed seeing friends and such, but I still had time to game with the boys or FaceTime others. I didn't have any serious problems or such, but I'd much rather be in person and sometimes at school," he said.
Freshman Reagan Wilson is another who can share the story of being forced into confinement, but she had the pleasure of experiencing it more than once.
"The first time I had to quarantine, I was exposed to Covid-19, and the second time I tested positive," she said.
By having to quarantine more than once, Wilson said that it grew boring over time.
"At the beginning of quarantine, I wasn't feeling very different physically or emotionally, but as it went on I started to hate it even more," she said. 
Wilson explains that she felt like she wasn't able to do anything except stay at home and try to stay on top of her schoolwork.
"I spent most of my time trying to understand my school work, but if I wasn't doing that I would read or play video games," she said.
In addition to the amount of work she received, Wilson says that distance learning was "the most difficult part of quarantine."
"
Try to stay as safe as possible because not being able to go to school isn't as fun as it sounds."
— Reagan Wilson
"I need to be able to have visual aids to help me understand things better, so I got confused very easily… without being able to learn it in person, and with my poor internet, doing Zoom and working at the same time was very hard," Wilson said.
With all the stress involving distance learning, she says it affected other parts of her life including her friendships.
"It (quarantine) affected my mental health because I wasn't able to see my friends," Wilson said.
Overall, Wilson believes that the whole concept of quarantine is a very tough thing to go through and advises people to wear their masks.
"Try to stay as safe as possible because not being able to go to school isn't as fun as it sounds." 
Leave a Comment
Donate to Chieftain Times
Your donation will support the student journalists of Yutan High School. Your contribution will help cover our annual website hosting costs, as well as allow us to purchase equipment and produce more in-print editions.
About the Contributor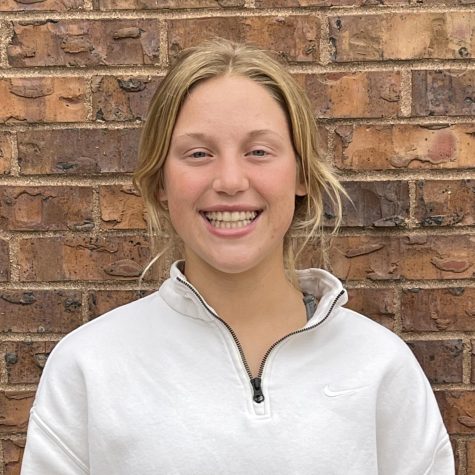 Haley Kube, Junior writer
Haley Kube is a junior and in her third year of journalism. She enjoys writing sports news, feature stories and making infographics.  Outside journalism,...